The Musée d'Orsay is pleased to announce the acquisition by pre-emption of a painting by Édouard Manet "Head of a young man after the Self-portrait of Filippino Lippi" (1853).
Paintings from the artist's early years are rare, and Manet is said to have destroyed or given away his early works when he was not satisfied with their execution. Only about ten copies after the old masters are known.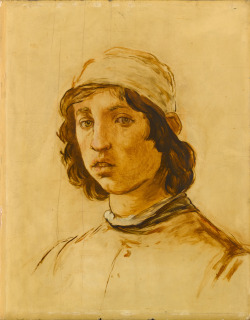 Its workmanship is faithful to the sketch-like rendering of the original (held in the Uffizi Museum in Florence), more graphic than pictorial. Here, Manet forsakes details to focus on the expression of the model, with a questioning and worried look.
The perceptible discrepancy between Lippi's work and the copy (proportions of the face, barely sketched out clothing), already shows a certain freedom of interpretation.
This portrait is a major acquisition for the Musée d'Orsay, which does not hold any of the artist's early copies, yet they are crucial to understanding the rest of his work.