In the genres in which he excelled (still life, marine, landscape), Antoine Vollon (1833-1900) had success with the critics and collectors of his time who praised his mastery of color and rendering of materials. He exhibited at the Salon throughout his career and received numerous official awards.
This oil on canvas represents a landscape of steep cliffs difficult to locate with precision. It is most likely a site on the Normandy coast that Vollon often visited. The artist was a regular visitor to Villerville, Trouville and Honfleur where he painted alongside Daubigny and Boudin.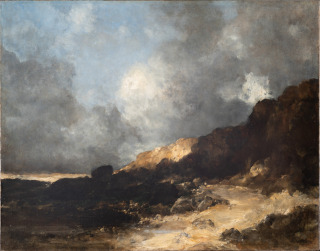 The spontaneous technique, leaving visible the brushstrokes, is well present in the landscapes of the artist around 1870, as well as the use of dark tones and shadow effects. If we find in Vollon certain procedures dear to the Barbizon landscape painters (partial execution in the open air, presence of a small character to animate the scene - here a fisherman on foot -), the painter is also close, in the treatment he gives to the cloudy sky, to Eugène Boudin. Both artists painted in Trouville in 1870 before the Franco-Prussian conflict caused Vollon to leave for Brussels, where Boudin joined him shortly afterwards.
The atmosphere of the scene is also reminiscent of Courbet's Stormy Sea presented at the 1870 Salon. In this landscape with dramatic overtones, Vollon chose an original point of view situated on the shore facing the coastline and not the sea. The large dark masses of clouds reflected in the water, the localized impastos opposed to areas where the brushstrokes are very free, the effects of contrasts, the play on textures (rocks, clouds, seaweed on the shore ...) are all demonstrations of the virtuosity of the painter. This work joins the nine paintings by Vollon, mostly still lifes, already in the Musée d'Orsay.
Gift of the Collection de Bueil & Ract-Madoux through the Société des amis du musée d'Orsay et de l'Orangerie.