Auguste Morisot was a multi-talented artist, producing paintings, drawings, engravings and decorations, as well as being a master glass maker. Above all, he was a leading figure in the Lyon art world. Born in Burgundy, France, he studied at Lyon's École des Beaux-Arts from 1880 to 1885, where he went on to teach from 1895 to 1933. In 1886, he left for Venezuela to draw illustrative plates of flowers for a scientific expedition. There, the mystical experience of sunlight breaking through the tropical canopy moved him profoundly: he saw the Venezuelan forest as a spiritual place, whose trees reminded him of sun filtering through Gothic windows. On returning to France, Morisot converted to Catholicism.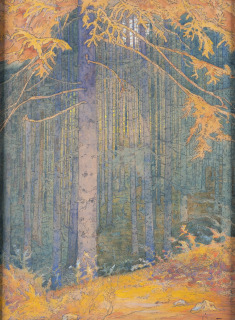 From 1900, the motif of the forest as a spiritual force was central to his work. First, Morisot developed his own, unique pictorial language, combining Symbolism with Christian imagery and interweaving the metaphor of the forest as a cathedral. The Great Wood also looks at the divine dimension of the forest, but no longer references Christianity.
With this painting, Morisot appears to want to portray a truly immanent force.
The Great Wood portrays the Forest of Meyriat, south-east of Bourg-en-Bresse, where Morisot spent nearly every summer with his family from 1904 to 1913. He modeled his work on traditional Japanese prints of the 19th century, resulting in a flattened perspective that plunges us deep inside the forest. Every element is drawn in black ink with the precision of a watchmaker. Light breaking through the trees – Morisot's leitmotif – is seen once more in The Great Wood, this time in the form of little touches of bright yellow gouache. The watercolor is lit up by fiery yellows and oranges, complementing the luminous blue-to-violet shading Morisot uses to depict the shadowy undergrowth.
When the first world war began, Morisot finally abandoned the forest motif, not, however, without turning to poetry to pay homage to it one last time in his text Forêt, heure blanche [Forest, the white hour].