These beige stoneware vases were made in the ceramic arts studio on Rue Blomet in Paris, as shown by the studio mark "H & Cie". Opened by the Haviland company in 1882 under the supervision of Ernest Chaplet, the studio was an important stage in the rediscovery of stoneware, one of the ceramic materials that was most popular with both artists and architects in the late 19th century.
Images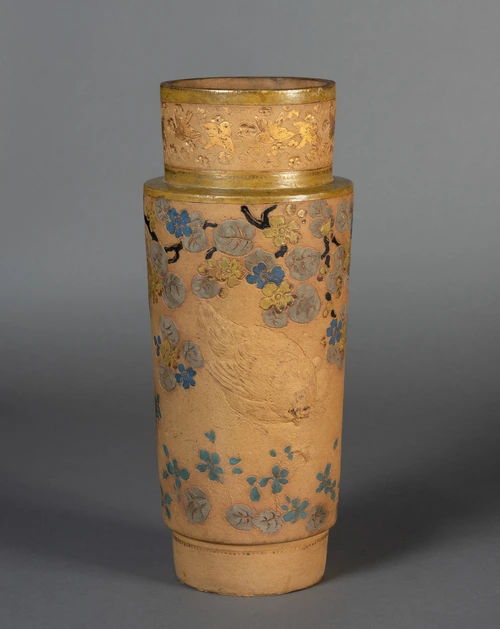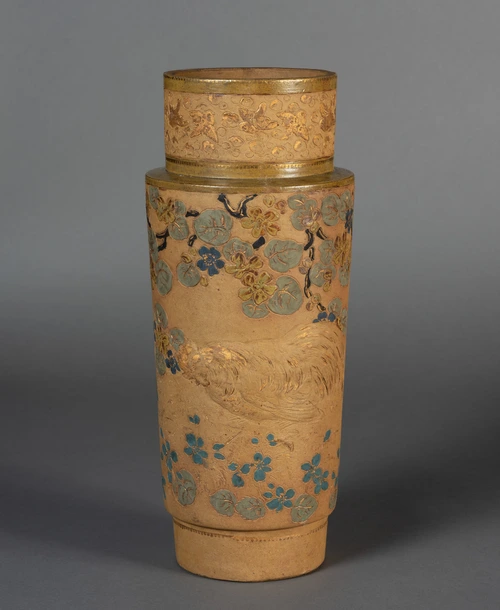 Signed "E. D. s." (Édouard Dammouse), the decoration on the vases is both molded and engraved and features colored or gold slip highlights. It portrays a hen with her chicks and a cockerel, designs borrowed from a collection of woodblock prints entitled Kachô sansui zushiki ("Drawings of flowers, birds and landscapes") by the Japanese painter and print artist Katsushika Isai (1821-1880), a pupil of Hokusai. Published in 1865, by 1866 this collection had already inspired some of Félix Bracquemond's motifs for his Rousseau service.
Several examples in brown stoneware kept in private collections are proof of the success of this Japanese-style design by Édouard Dammouse, while an example in china at the Adrien Dubouché National Museum in Limoges reminds us that, in 1884, it was one of the few designs made in china by the Haviland factory using molds that had been sent from Paris. This method of production proved to be too expensive and was therefore abandoned the very next year, as was production at the Rue Blomet studio which Chaplet was to acquire in 1885.
Thus this pair of vases, donated by Madame Chantal Kiener, is a welcome addition to the collections of the Musée d'Orsay, whose collection of stoneware from the Haviland factory, as yet fairly small, was enriched in 2018 with a large planter decorated with acrobats, the result of a collaboration with Ringel d'Illzach. Édouard Dammouse, meanwhile, had previously been absent from the Musée d'Orsay, with only items by his brother Albert, whose ceramics and molten glass pieces are more well known, featuring in the collections.