La Pétroleuse vaincue [The Defeated Pétroleuse] is a bust of a woman first presented by Ginotti in 1881 in a marble version at the National Fine Arts Exhibition in Milan. The version acquired by the Musée d'Orsay is a bronze executed by the artist in 1887 and cast by the Mazzola foundry in Turin.
This bust represents a woman of the people with a proud gaze, fettered by ropes that encircle her shoulders and chest. The subject draws its inspiration from the role played by Parisian women during the Paris Commune in 1871. During this revolt many buildings in the capital were burned, and the communardes were accused of having used oil (pétrole) to start fires. The popular myth of the "pétroleuses" was born  then.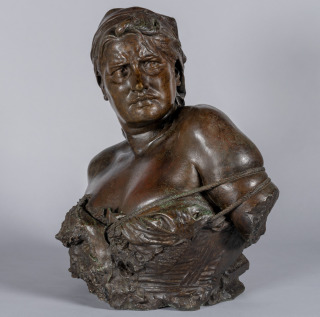 Until now in private hands in Italy, the bronze of the Defeated Pétroleuse is an exceptional work that bears witness to this episode in French history and the reactions it provoked in the European art world. Although his sculptures were widely distributed throughout Europe during his lifetime, Giacomo Ginotti and his work are still unknown in France. However, this bust has its origins in a famous work by Jean-Baptiste Carpeaux, Pourquoi naître esclave [Why Born Enslaved?], created in 1872. This tribute to one of the most important French sculptors of the time, who was also an abolitionist, makes this acquisition all the more essential.
The Defeated Pétroleuse, probably Giacomo Ginotti's most extraordinary work, thus completes the French national collections and brings the Italian sculptor, as well as the Italian movement of social realism (Verismo) that he embodied, the recognition they deserve in the history of art of the second half of the 19th century.
Joining the community of patrons of the Musée d'Orsay, Lavazza France has made the acquisition of this sculpture possible through its generosity.
""The Musée d'Orsay has had an unbreakable bond with Italy since its creation, and we are committed to continuing to nurture it through a rich program that celebrates Italian artists and their talent. Thanks to the support of Lavazza France, our collections are enriched today by a major work of 19th century Italian art, which recalls the role of women in the Paris Commune and pays a vibrant tribute to Jean-Baptiste Carpeaux"."