The son of a painter (Alexandre Pierre Étienne Rapin), Henri Rapin studied at the École des Beaux-Arts, notably in Gérôme's studio, before embracing a career as a painter, decorator, and illustrator. Also a student of Eugène Grasset, he frequented Henri Bellery-Desfontaine and turned to the design of furniture and interior decorations. He is best remembered for his contribution to the 1925 Exhibition where he was credited with the dining room of the French embassy implemented by the Société des Artistes Décorateurs.
Japanese Prince Yasuhiko Asaka commissioned him for his private residence in Tokyo, completed in 1933 and now known as the Teien Art Museum. During this period he was also artistic director of the school of the Ladies' Committee of the Central Union of Decorative Arts [Comité des dames de l'Union centrale des arts décoratifs] and artistic advisor to the Manufacture de Sèvres. It is thus in the Art Deco movement that Henri Rapin flourished in the 1920s-1930s.
Rapin's work before World War I is, however, also worthy of attention and perfectly illustrates the interest of artists in the renewal of interior decoration in the early years of the twentieth century in Paris. Making reference as it does to English Arts & Crafts, a diffuse Japonism, and demonstrating a renewed knowledge of the material, Rapin's approach is characteristic of this new generation that benefited from the teaching of E. Grasset, steeped in the influence of E. Viollet-le-Duc, and which waited until the interwar period to come of age. Rapin favored oak wood to design this solid and legible chair. A high-backed armchair with a low, backward sloping seat, it echoes the contemporary interests of artists designing for Julius Meier-Graefe's Maison Moderne, including Maurice Biais and Abel Landry. Rapin, however, developed a personal ornamental approach by emphasizing the upper part of the backrest and the armrests with a sculpted decoration made of geometric patterns and stylized foliage.
.
Images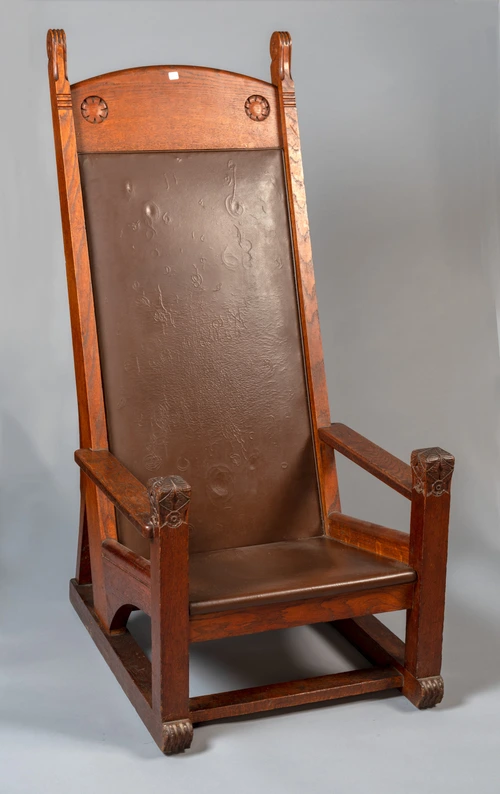 This chair has a variation from the model published in Recueil de l'Art appliqué in 1905: here, the foliage takes the place of a raptor that formed the upper part of the front posts. It is the version of the chair with the raptor that was presented at the 1904 Salon des Artistes Français, which now belongs to the collections of the Musée des Arts Décoratifs.
The collection of the Musée d'Orsay had not previously included any furniture by Henri Rapin. The acquisition of this armchair, which takes its place in a typological ensemble, now fills this gap.