In a century that was passionate about "great men", Joan of Arc is certainly the female figure that has most inspired artists. Her tragic fate had already fascinated the Romantic generation, but it was really in the last quarter of the nineteenth century that she became a key figure in painting, sculpture, and even in the decorative arts.
This entire period was marked by the long process of her canonization, which began in 1869 and did not end until 1920, after her beatificationin 1909, and her proclamation as "venerable" in 1894.
It is into this context that Jean Rivière's large tin-plated bronze medallion, dated 1895, fits. This artist from Toulouse, born into a family of furniture makers, studied sculpture at the very active school of fine arts in his native city. While he failed to win the Municipal Grand Prix that would have allowed him to continue his training in Paris, he nevertheless made an honorable career as a sculptor, cabinetmaker, and teacher in Toulouse, notably creating a wood workshop within the École des Beaux-Arts in 1907.
.
Images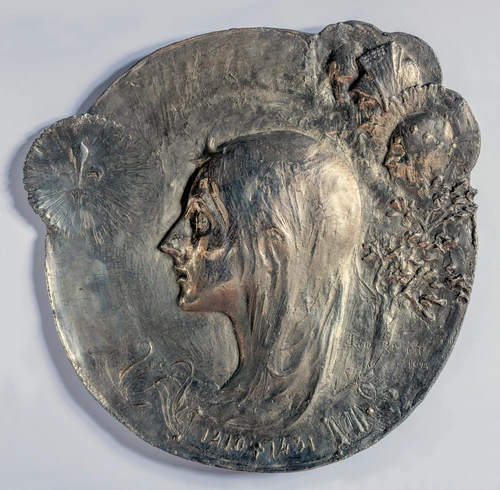 Rivière here depicts Joan of Arc as a young girl with long untied hair, in profile to the left. She stares at a fleur-de-lis that appears to her in a nimbus, whose luminous rays form a kind of medallion within the medallion, extending well beyond the frame of the work. Behind her, in addition to this symbol evoking the mission that Joan must accomplish to save the king of France, three other also protruding medallions probably represent Saint Catherine, Saint Michael and Saint Margaret, whose voices she says she heard. The dates inscribed at the bottom, 1410-1431, correspond to one of the supposed years of her birth and death.
This is not the warrior Joan of Arc that the artist chose to portray, unlike some of his contemporaries such as Emmanuel Fremiet, Paul Duboisor Frank Craig. Nor is it quite the modest shepherdess of Domrémy, an image of whichHenri Chapupainted in 1872 that became immensely popular. Rivière is interested here in the mystical figure, as were several artists attached to the symbolist movement. Like Eugène Carrièreor Odilon Redon, Rivière set out to give a plastic equivalent to the voices heard by the girl, in the form of visions that appear to her in a mysterious halo.