This oil on canvas is a study for the left panel of Léon Frédéric's triptych entitled The People will one day see the sunrise (which will dispel the darkness of the world), created in 1890-1891. The final version of this work, which has belonged to the Belgian State since 1962, bears witness to the period when the artist began to mix allegory with the naturalism he was already practicing.
This was also the period when symbolism was emerging on the European scene. 
The contemporary context of the Belgian anarchic attacks, however, makes it as much a social and humanist subject as a utopian and idealist one. The work thus marks a pivotal point in the themes treated by Frédéric.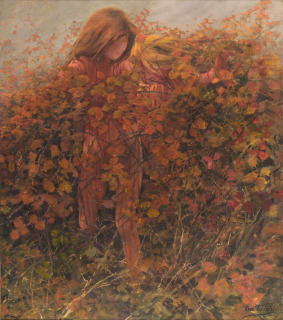 The panel for which this study was made represents three naked children fleeing through brambles. In the background, one can recognize Brussels with its collegiate church of Saint Michael and Saint Gudula and its Palace of Justice. In the central panel, a crowd of people is dominated by a wave illuminated by ochre reflections. The right panel, entitled Towards Justice, depicts five children dressed in white robes walking through a sunny, flowery landscape.
These scenes show the three ages of the people through modern adaptations of the Old Testament (the past with the Fall of man; the présent with Exodus and Crossing the Red Sea; the futur with The Golden Age). The triptych can thus be seen as the counterpart of the one kept at the Musée d'Orsay: Ages of the Worker (1895-1897). By choosing this format, Frédéric sacralized the daily life of the most humble by placing it on the same level as religious subjects.
In contrast to the Belgian collections in which the painter is well represented, Léon Frédéric is a rare artist in French public collections. Apart from the Musée d'Orsay, which currently holds four of his paintings and one of his sculptures, the Musée des Beaux-Arts of Lille is the only other French museum to hold one of his paintings. The gift of Mr. Jean-Louis Milin through the Société des Amis des Musées d'Orsay et de l'Orangerie is therefore an exceptional opportunity to strengthen the representation of Belgian social art in the national collections.