Léon Frédéric was one of the leading figures of late 19th-century Belgian art, his work moving from Realism to Naturalism and eventually towards a Utopian Symbolism. He is one of the main Belgian artists to be associated with Social Realism, alongside Constantin Meunier and Eugène Laermans.
In 1887, he began an ambitious project to produce two series of eleven large charcoal drawings, one dedicated to "Wheat" and the other to "Flax". These drawings were intended to frame a central panel, called "Nature" or "La Terre" [The Earth], an allegorical image depicting a young peasant woman surrounded by twelve children, symbolizing the twelve months of the year.
By borrowing this format from religious art, he bestows the majesty of the biblical figure upon the humble subjects of his painting. He also created a style of Belgian art that is directly in line with the Flemish Primitives, in both its Christian connotations and its sense of detail and illusionary realism, whilst actively bearing witness to contemporary concerns connected with the turbulent social context. Indeed, the artist was in the process of making his Wheat and Flax series just as hunger riots were breaking out across the country (in 1886), precursors to the general strikes of 1893.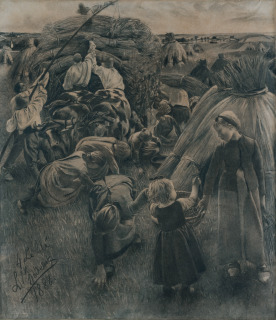 Just like in L'Angélus [The Angelus] by Jean-François Millet, the spire of the village church can be seen in the background, a subtle yet visible presence, underlining the picture's religious connotations. In Léon Frédéric's work, naturalism and myth are layered on top of one another. In this he is very close to the style of the novelist Emile Zola (La Terre [The Earth], 1888) combining realistic observation of country folk in their natural surroundings with a symbolic, monumental vision.