Images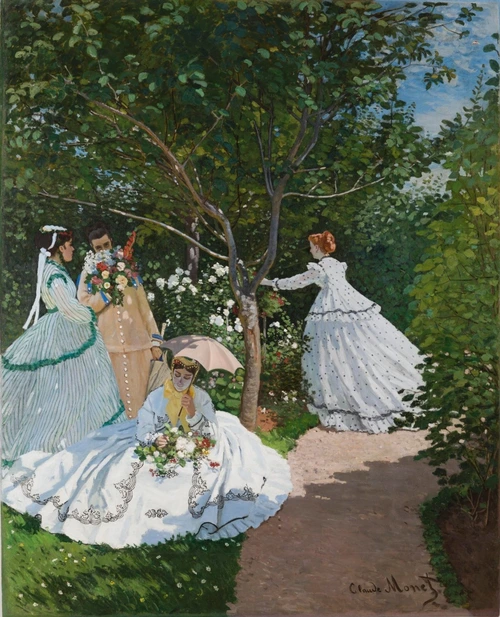 Presentation
In the spring of 1866, Monet challenged himself to work outdoors on a monumental canvas. He began to paint four young women in his garden in Ville-d'Avray, whose model, for the three figures on the left, was his companion Camille Doncieux.
Partly executed outside – in a trench dug for this purpose – and then often transported, the work had been torn in the lower part and repaired in Monet's time.
Images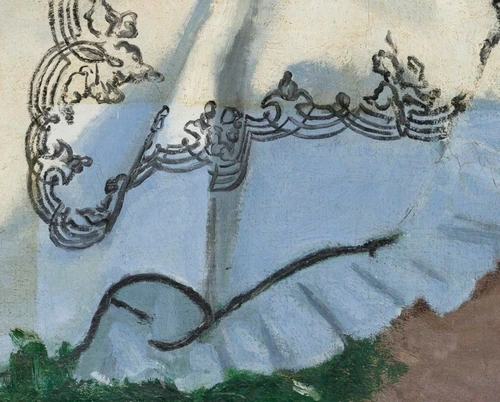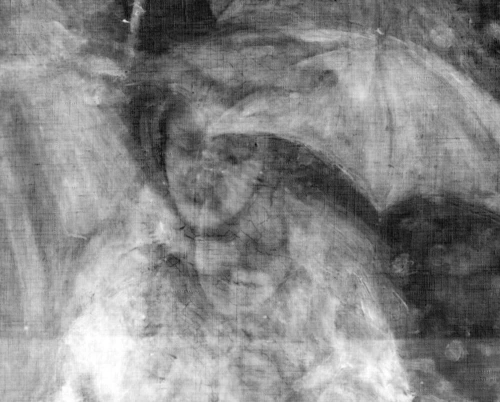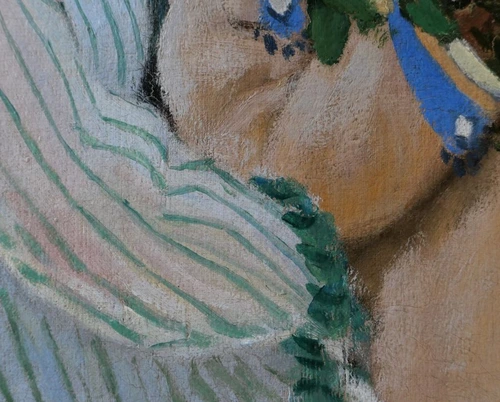 Over time, these old repairs had deteriorated. The painting's now yellowed varnish dimmed the boldness of Monet's palette and the sureness of his touch. Scientific imagery has made it possible to trace the changes in its composition. The treatment and cleaning of the painting have restored its brilliance. The sparkling whites contrast again with the bluish-gray shadows, and the shades of green have recovered their depth.
This work of restoration and research brings us closer to Monet's original intentions, in the years before the advent of Impressionism.
Restorers
Pictorial section:
Bénédicte Trémolières
Sévérine Françoise
Frame:
Christian Chatellier
Understanding in order to restore: Scientific images
Ultraviolet, X-rays, etc., what do the scientific images of the painting "Femmes au jardin" [Women in the Garden] by Claude Monet reveal?
With Mathieu Gilles, Chief Curator of the painting sector in the Restoration Department of the C2RMF.
Clean, reveal, retouch
Knowing the material history of the work, understanding Monet's technique and his creative process, were essential prerequisites for the restoration of "Femmes au jardin" [Women in the Garden].
With Bénédicte Trémolières, painting restorer.
As close as possible to the canvas
The necessary interventions on the structure and the surface of the canvas before treating the gaps, and proceeding with the pictorial reintegration.
With Christian Chatellier, painting restorer.
Edging and finishing
Before re-framing the work, the final stages of the restoration: protecting the edges of the canvas and making the final touch-ups.
With Bénédicte Trémolières and Christian Chatellier, painting restorers.
The return to the gallery
After its restoration at the C2RMF, Femmes au jardin [Women in the garden] of Monet has recovered all its brilliance and can be hung up in the galleries. This is an opportunity to learn a little more about the work and its history with Sylvie Patry, Director of Conservation and Collections at the Musée d'Orsay.