The role played by Virginie Demont-Breton in the progressive inclusion of women in the art world throughout the 19th century makes her an important figure. Born into a family of artists, she led with her husband the group known as "Wissant", named after a village on the Opal Coast, which brought together French and Belgian artists between 1890 and 1900.
She exhibited at the Salon from the age of twenty, and later on she received several medals and was decorated as an Officer of the Legion of Honor. Her works were admired by Van Gogh, who made a copy of her painting Man at Sea.
She became involved in the Union of Women Painters and Sculptors in 1883, which she presided from 1895 to 1901. Thanks to the activism of the Union, the École des Beaux-Arts became accessible to women in 1896, giving them access to the library and to lectures on perspective, anatomy and art history. A year later, they were allowed to sit for entrance exams and take painting and sculpture classes, and in 1900, they finally had access to workshops identical to those reserved for men. Finally, they could compete for the Prix de Rome from 1903 onwards.
Young Woman Sewing is a drawing made when Virginie Demont-Breton was still very young and had just begun to depict figures, but it already demonstrates the sureness of her line and her drawing skills. The great plastic quality of the drawing can be seen in the mastery of the curve, which subtly merges the shoulder with the back of the chair, as well as in the play of draperies and chiaroscuro.
The subject evokes the domestic life of women, a favorite subject of the artist who has often represented peasants and sailors' wives, in their rough and difficult life.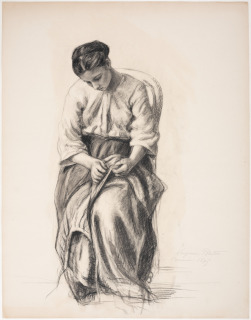 Young Woman Sewing is not related to a painting but seems rather to be an exercise in figure-making that allows to combine study on the spot and classical reminiscences. It inspires a certain sadness, resignation and weariness of the model by its posture, but also a strength, a firmness and a beauty suggesting this theme of the inner struggle of a woman facing the difficulty of life.
The work joins in the collections of the Musée d'Orsay Young Woman Carrying a Child, another charcoal drawing by Virginie Demont-Breton currently on long-term loan at the Musée des Beaux-Arts in Arras.