Pastels are sticks made of pigments mixed with a white substance such as clay or china clay, and a binder, usually gum Arabic, which enables the coloured powder to solidify. The type of binder used and its quantity determine how hard the pastel is. The pigments are mineral, plant-based or synthetic, and the same as those used in painting with some exceptions.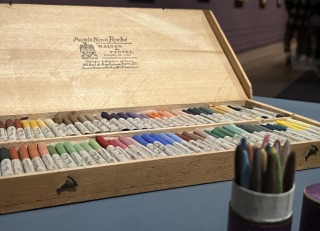 Pastel is a "clean" technique that does not need any preparation or drying time. Léonard de Vinci, who was probably introduced to it the French Jean Perréal in 1499, was one of the first to use this "method of dry colouring".
The medium, which is fragile over time, presents conservation challenges: some pigments are light sensitive, it is subject to mould, and dust is its enemy. The "bloom of pastel" is highly sensitive to vibrations, and the slightest shock or scratch can damage it. It must therefore be protected by glass, and displayed in reduced light.