The Zsolnay manufacture in Pécs, in what is now southern Hungary, was founded in 1853 and expanded internationally under the leadership of Vilmos Zsolnay in the late 19th century. It was, and remains, particularly famous for its vases echoing the stylistic innovations of the late 19th century: Art Nouveau, Jugendstil and Symbolism. Its productions were revealed to the international public at the 1873 Vienna World's Fair. Their success was confirmed at the 1878 Universal Exhibition in Paris and remained constant until the First World War.
From 1893, the manufacture developed new glazes, including the so-called "eosin" finish, in homage to the deity Eos, reputed to confer on ceramics the pearly glow of dawn, as well as the "Labrador blue," a deep blue that also remained famous.
In the early years of the twentieth century, an evolution took shape within the manufacture. On the one hand, a simple, almost series production process was developed, whereby the decorations were simplified and the forms somewhat stereotyped. On the other hand, unique pieces of artistic intention were also produced.
Images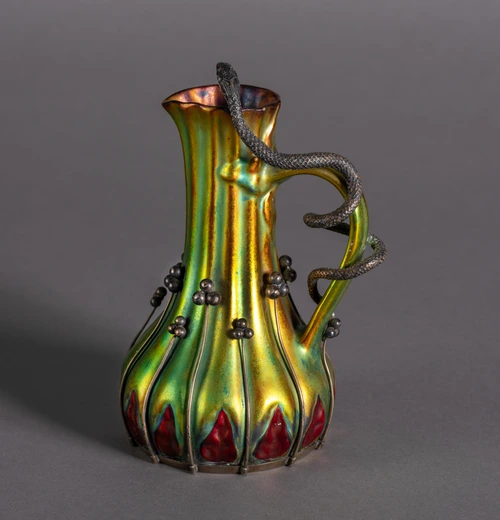 The vase in question is clearly one of the artistically-oriented pieces of the last years of the nineteenth century, characterized by a strong symbolist inspiration. Unlike the vase acquired in 2016, whose very simple form had allowed the design studio to display its talents, here the glaze underscores the simplicity of the form, designed to accommodate the silver mount that gives the work its symbolist strength. This one is composed of two main elements: a belt of stems, each bearing three berries, which surrounds the ewer, and a snake coiling around its handle. This last, spectacular, motif echoes the snake vase from the same manufacture exhibited in Turin in 1902. There, the snake was made of ceramic.
The silver mount was created by Oscar Julius Dietrich, a goldsmith active in Vienna between 1881 and 1924 who participated in the 1900 Universal Exhibition in Paris as well as the 1925 Exhibition of Industrial Arts. The presence of this mount in perfect condition is extremely rare.
The acquisition of this work allows the Zsolnay manufacture to be represented now by a second example of its finest productions within our international Art Nouveau collections. It enriches the collections of Central European decorative arts by providing a counterpoint to the Viennese collections, which are well represented in our collection. This ewer finds its place in a renewed approach to the regional and identity dimension of Art Nouveau.
.