Angélique et Roger montés sur l'hippogriffe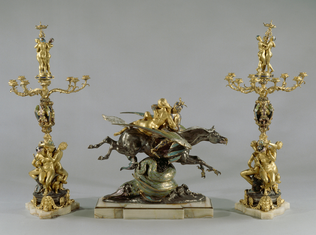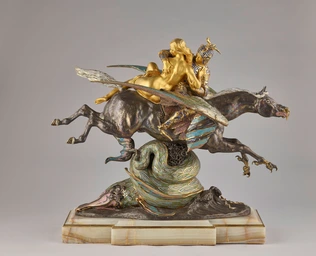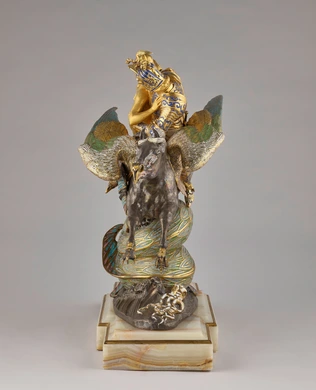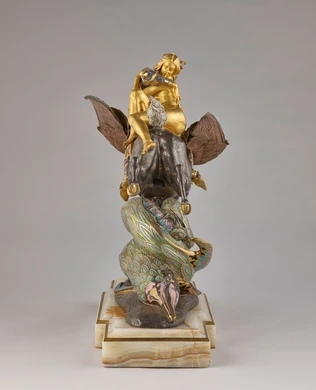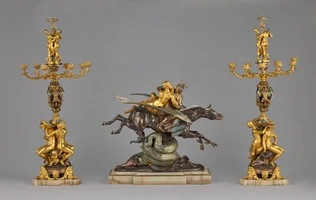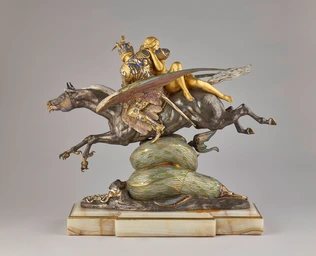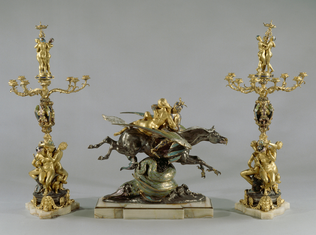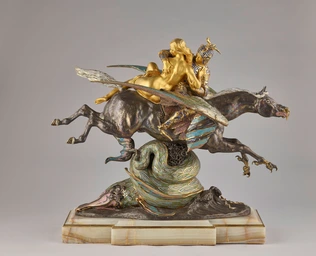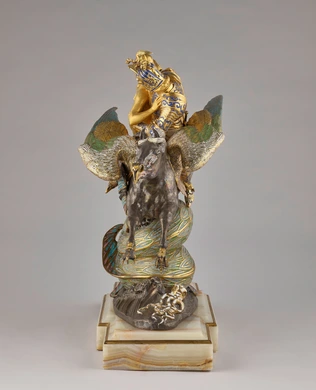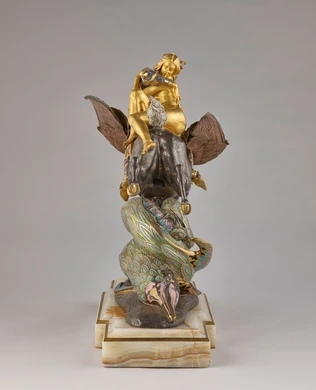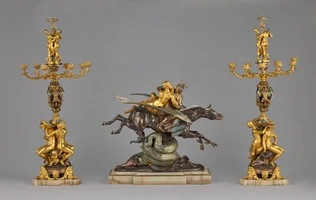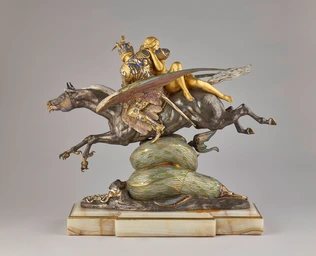 Antoine-Louis Barye (1795 - 1875)
Artwork not currently exhibited in the museum
Barye's bronze ornaments are undeniably among the finest produced by any nineteenth-century sculptor. His decorative skills are particularly apparent in the impressive mantelpiece decorations he produced between 1844 and 1858.
On the request of the duke of Montpensier, the younger son of Louis Philippe, Barye is believed to have designed about 1844 an earlier piece inspired by a literary theme very much in vogue at the time, taken from Ariosto's Orlando Furioso Barye showed "the beautiful queen of Cathay, the capricious Angelica, Roland's cold lover, whom Rogero had just snatched from death, flying through the air on the hippogryph, clasped in the arms of the amorous knight."
Over ten years later, Barye used the same design for this piece. The daring introduction of champlevé enamel, matt or brownish gold and patinated silver gives a striking effect. It is far from the bronzes with dark patinas that Barye usually favoured. The placing and firing of the enamels required collaboration with other artists and the sculptor Charles Cordier (1827-1905) is known to have worked on this piece.
The enamel gleams on Roger's armour, on the mane, wings and tail of the hippogryph and on the scales of the orc.
This spectacular mantel set was proof of the successful union of art and industry that was prized in the mid nineteenth century. The exemplary artistic partnership prefigured the series of decorative objects produced by industrial firms such as Barbedienne or Christofle in 1860-1870, sealing the importance of polychromy in fine bronze work.
Barye made a matching pair of candlesticks for this piece, adorned with the interlaced bodies of the Three Graces, chimeras and the goddesses Juno, Minerva and Venus.