Arearea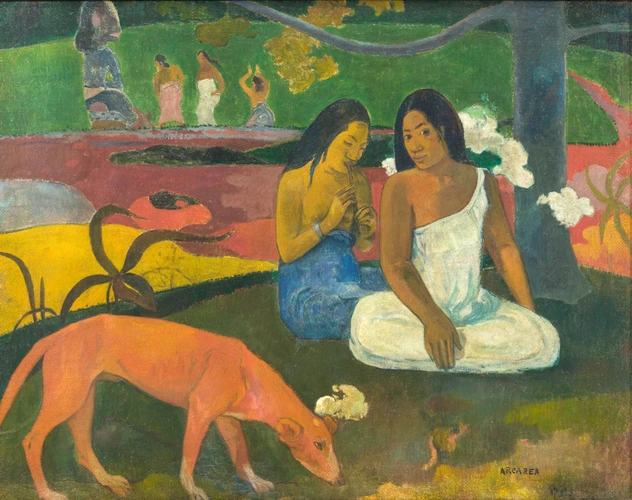 Paul Gauguin (1848 - 1903)
In April 1891, Gauguin set off for his first visit to Tahiti, in search of traces of a primitive way of life. He took his inspiration for imaginary scenes in his paintings from what he saw around him, as well as from local stories and ancient religious traditions. Arearea is representative of these works where dream and reality coexist.
In the foreground, there are several motifs, which he had no doubt observed, as they recur throughout the paintings of this period. There are two women seated in the centre of the picture, a tree cutting across the canvas, and a red dog. The sky has disappeared; a succession of coloured planes – green, yellow, red – forms the structure of the composition.
In the imaginary scene in the background, there are several women worshipping a statue. Gauguin has enlarged a small Maori statue to the size of a great Buddha, and has invented a sacred rite. All these elements create an enchanted world, full of both harmony and melancholy, where man lives under the protection of the gods, in a luxuriant natural environment, in an archaic, idealised Polynesia.
Arearea is one of a collection of Tahitian paintings exhibited in Paris in November 1893. Gauguin wanted to justify his exotic trip. However, this exhibition did not receive the enthusiastic response the artist had hoped for. The titles in Tahitian irritated many of his friends, and the red dog provoked much sarcasm. Nonetheless, Gauguin considered Arearea to be one of his best paintings, and in 1895, he went so far as to buy it back for himself before leaving Europe for good.
Niveau supérieur, Galerie Françoise Cachin