Armoire-cabinet 'mauresque' formant secrétaire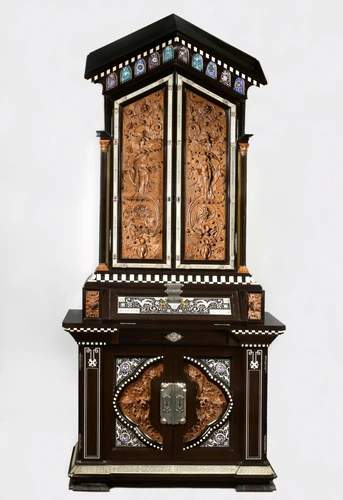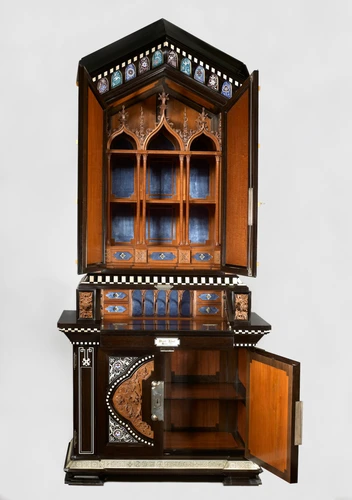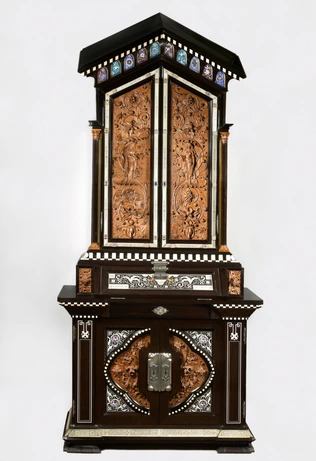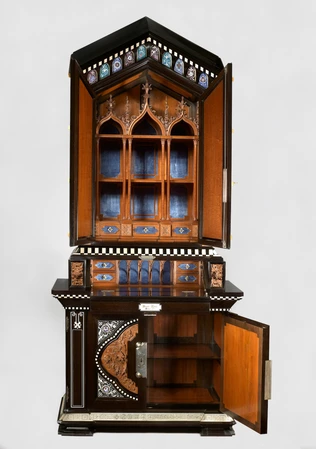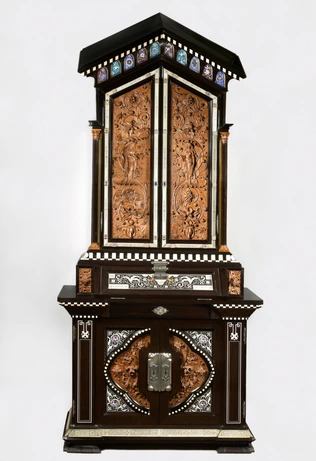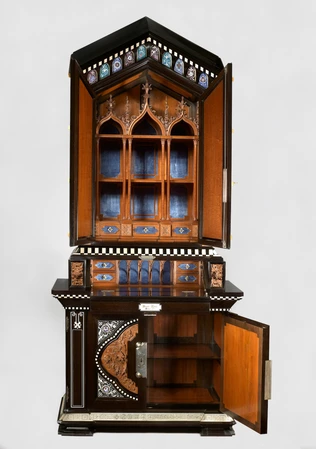 Daniele Lovati
Artwork not currently exhibited in the museum
Between 1878 and 1890, Daniele Lovati ran a large workshop specialising in wood and ivory carving, located at 18, via Vivajo in Milan. He received a special mention when exhibiting at the 1878 International Exhibition in Paris.
This cabinet, a perfect example of grand ornamental furniture, raises the whole question of 19th century eclecticism. The architectural top gives a "Moorish" impression with the polychrome enamels adorning the cornice, and there is an international Gothic reference with the door panels decorated with figures symbolising Reading and Writing.
At this time, the passion for Gothic was at its height in northern Italy: the decoration of Milan cathedral was finished in 1888, and the facade of Santa Maria del Fiore in Florence was completed between 1871 and 1887.
The label found in this piece of furniture bears the words ''fece anno 1881'', which seems to confirm the date of manufacture. In that same year, Daniele Lovati was awarded the gold medal at the Exhibition of Applied Art in Milan.
Lovati went on to find fame outside Italy. His trilingual business card – printed in Italian, French and English – refers to the medal from the 1878 Universal Exhibition, and specifies that he ran a workshop in Milan making decorative elements in enamelled metal, marquetry and hardstone for all styles of furniture, from simple items to luxury pieces.
This market positioning is confirmed by two armchairs initially attributed to the New York firm of Herter Brothers. These armchairs, very similar to our cabinet, and acquired in 2012 through the support of the American Friends Musée d'Orsay, were designed by Lovati, and distributed on the American market by the Herter Brothers firm.