Avant l'opération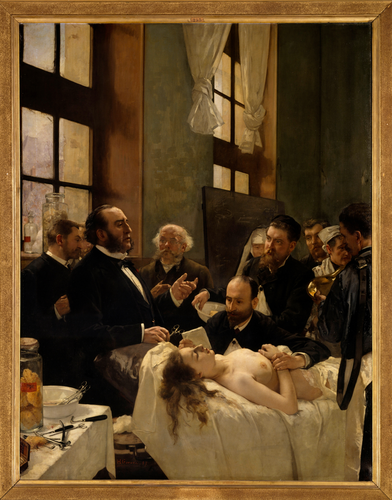 Henri Gervex (1852 - 1929)
Artwork not currently exhibited in the museum
Before the Operation, more correctly known as Dr Péan Teaching His Discovery of the Compression of Blood Vessels at St Louis Hospital, presented at the Salon de la Société des Artistes Français in 1887, was regarded by some contemporary critics as a modern transposition of Rembrandt's Anatomy Lesson.
Like his illustrious predecessor, Gervex shows the famous doctor surrounded by his assistants and his pupils beside the subject of the experiment who is lying in the foreground. But unlike his elder, he has chosen a vertical composition which enables him to detail the physical surroundings and lets in a flood of light which sharply outlines the forms, exaggerating the dramatic aspect of the scene.
Instead of Rembrandt's static arrangement, he has chosen a deliberately dynamic arrangement with an off-centre composition, accentuated by the attitudes and movements of the protagonists who are bound together by a complex web of gestures and glances. He has also introduced a set of surgical instruments, laid on a white cloth in the lower left foreground, as an indicator of the most recent scientific progress.
These devices raise Gervex's representation of an event experienced by only a handful of people to the rank of a history painting conveying a message of modernity and hope.