Caïn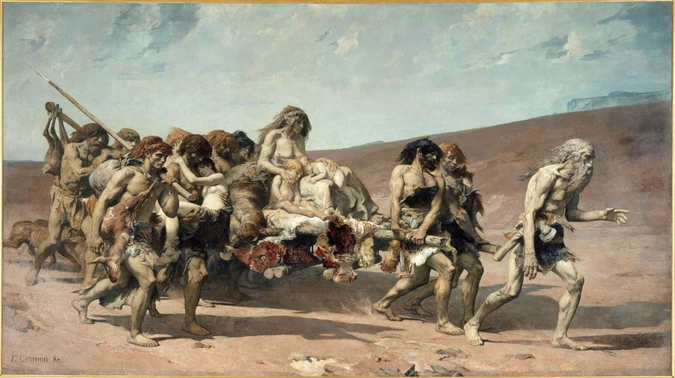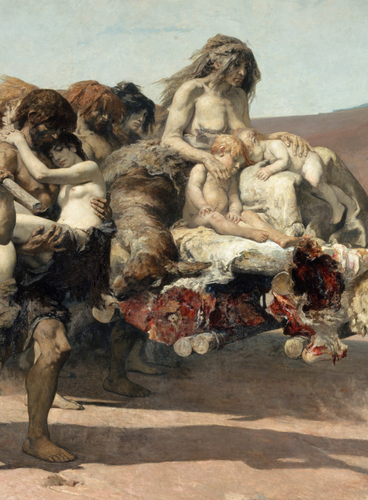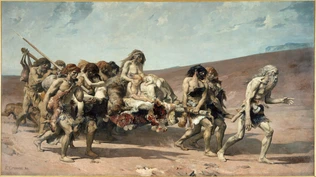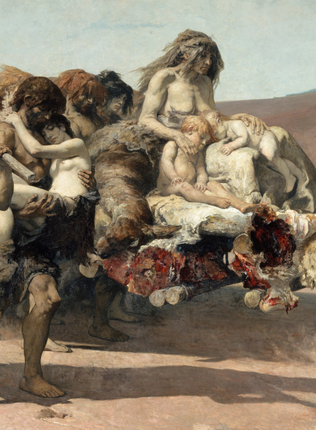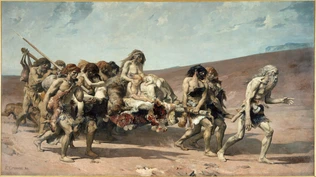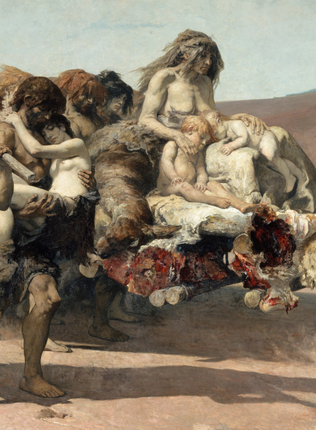 Fernand Cormon (1845 - 1924)
This painting illustrates the miserable destiny of Cain, the elder son of Adam and Eve, who after the murder of his younger brother Abel was condemned to perpetual wandering. A haggard Cain is doggedly leading his tribe. On the wooden stretcher carried by his sons sits a bewildered woman with her dazed children. Chunks of bleeding meat are hung on the stretcher. Other men, the hunters, are trudging alongside. One is carrying a young woman in his arms and stray dogs bring up the rear. Fear of Jehovah's sentence is written on every face.
Cormon has lengthened the shadows as if the light of truth were pursuing the guilty through the bleak plain. He uses earthy colours and vigorous brushstrokes, plastered like Courbet's. The artist insisted on anatomical accuracy and had live models pose in his studio for each figure.
As well as a Biblical story and a grandiloquent epic, the work is an anthropological reconstruction. It introduces a new field—prehistory—at a time when Palaeolithic rock paintings were just being discovered. Lacking documents, Cormon speculates on life in those remote times, on barbarians struggling to survive, going barefoot with tangled hair and coarse skin. As a subtitle, he quotes the opening lines of Conscience, a poem by Victor Hugo's from La Légende des siècles (1859):
"When with his children clothed in animal skins
Dishevelled, livid, buffeted by the storms
Cain fled from Jehovah,
In the fading light, the grim man came
To the foot of a mountain in a vast plain..."