Calanque (six heures du soir)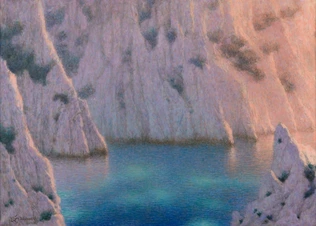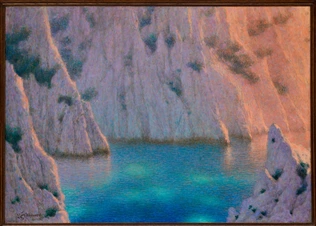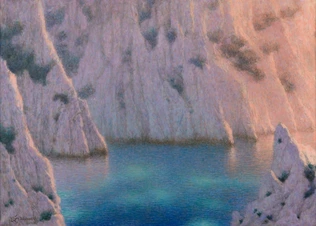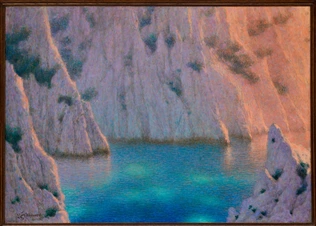 Lucien Lévy-Dhurmer (1865 - 1953)
In 1936, at the Salon de la Société Nationale des Beaux-arts, Lévy-Dhurmer exhibited a series of four paintings of calanques (rocky inlets) at different times during the day, with the title Quartet of Calanques: Morning, Six o'clock in the Evening, Dusk and Night. The title, Quartet, a musical reference, emphasises not only the poetic nature of the place but also a desire to acknowledge the passage of time (continuing the idea of listening to music).
We think also of the series by Claude Monet, in particular the series of images of Rouen cathedral (1892-1895). Lévy-Dhurmer, as Monet's prestigious precursor, has taken on an ambitious task here, as nothing is more demanding than capturing a moment that is, by nature, fleeting.
We should be wary of regarding Quartet as an expression of spontaneity or of unconditional acceptance of outward reality. On the contrary, everything in it has been patiently reconstructed. Thus, Lévy-Dhurmer first made numerous rapid notes in situ, before producing, in the calm of the studio, pastels then oils on canvas. As in his series executed on the shores of [lienCommentaire:146449]Alpine lakes[/lienCommentaire] between 1925 and 1935, he magnifies this Mediterranean landscape, delighting in the phosphorescent effects. By restricting the field of vision, to the point of eliminating any glimpse of the horizon, he isolates the scene from any precise context. The cliffs are transformed into a precious jewellery box, protecting a mysterious, living liquid.
The Calanque (six o'clock in the evening) is the only one of the quartet that is in a French public collection. Among the other numerous versions in pastel, one is in the Musée des Beaux-Arts in Brest, another in the National Gallery of Art in Washington, while the Musée d'Orsay has another Calanque in vertical format.
Artwork not currently exhibited in the museum