Ce que l'on appelle le vagabondage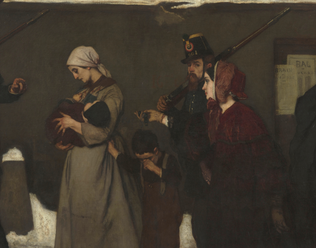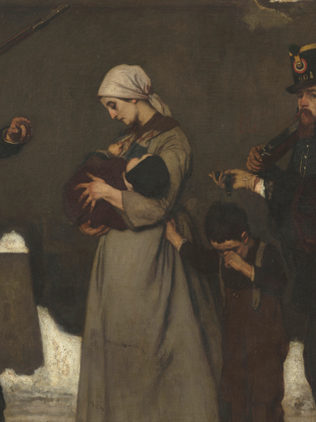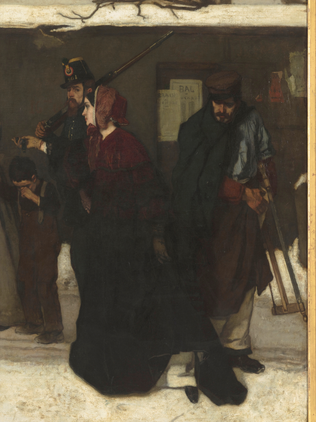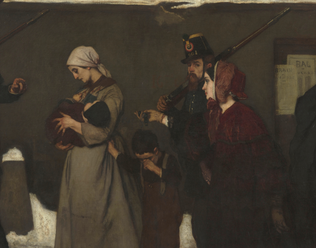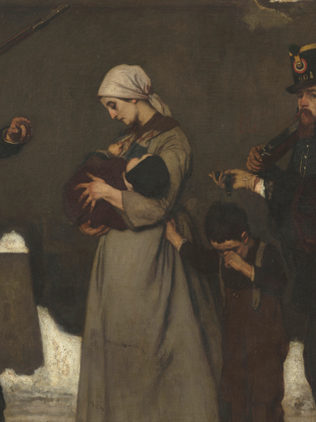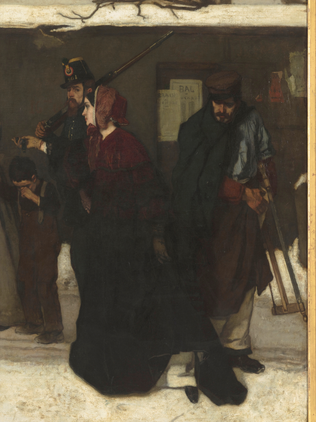 Alfred Stevens (1823 - 1906)
Rez-de-chaussée, Salle 12
Born in Brussels in 1823, the Belgian painter Alfred Stevens moved to Paris in the 1840s. This painting is representative of the early part of his career, when he was keen to represent the squalor of the time in realist paintings.
This Parisian street is the setting for an urban drama. Soldiers lead a mother and her ragged children away to prison for the crime of vagrancy. A
n elegant woman is trying to intercede with the soldiers, while a workman has already given up. The attempt is doomed to failure as shown by the soldier's gesture of refusal. A similar scene can be found in Victor Hugo's Things Seen.
On the long grey wall, posters referring to property sales ("sale by auction") and the pleasures of high society ("ball"), contrast with the poverty described in the painting.
The different social groups who occupy the same urban space find themselves side by side here in a moving composition, and the role of the State, purely repressive, does not come out well.
Stevens' objective was to denounce the poor living conditions in the towns and the cruel treatment meted out to those who lived there. The message struck a chord with Napoleon III who, on seeing this painting at the 1855 Universal Exhibition, supposedly said: "That will not happen again". As a consequence of this, the Emperor ordered that any vagrants should henceforth be taken to the Conciergerie, not on foot, but hidden away in a closed carriage.