Chasse aux lions (esquisse)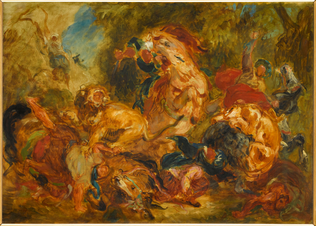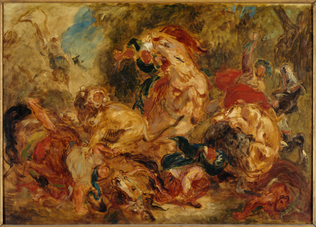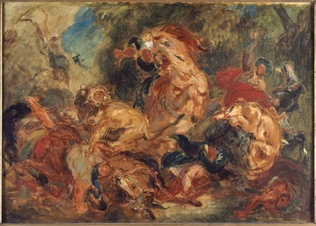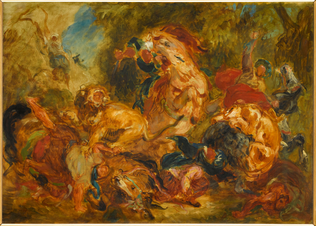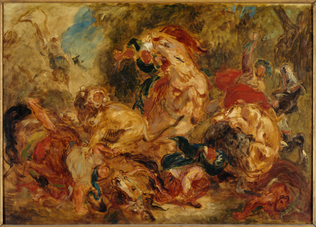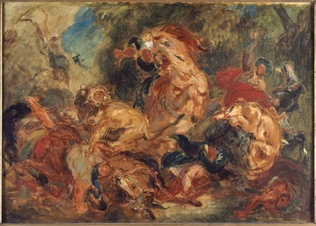 Eugène Delacroix (1798 - 1863)
In 1854, Delacroix was asked by the director of the Fine Arts Department to execute "a painting, first submitting the subject and the sketch to me for approval." He chose to rework a theme he had been thinking about since 1847, when he had admired engravings after Rubens' paintings The Hunts. The Lion Hunt is the sketch for the large definitive painting delivered in 1855, a work unfortunately severely damaged during a fire in the Musée de Bordeaux in 1870.
In this preparatory work, Rubens' influence is also noticeable in the composition structured by colour rather than drawing. The terse, rapid brushstrokes in which we can feel the artist's hand, translate the turmoil of the scene and the ardour of the painter. Although the iconographic elements are difficult to identify, we can make out a rearing horse in the centre. In the inextricable, violent fray, the animals' bodies spin in a whirl constructed with the three primary colours: blue, red, yellow, in which the warm colours dominate. The colour harmony of the final work prompted Baudelaire to write: "Never have more beautiful, more intense colours been channelled through the eyes to the soul".
The critics were often hostile, reproaching Delacroix for his extravagant colour and incomprehensible composition. Although he was the quintessential Romantic painter, Delacroix is here acting as a precursor. Through the emphasis on masses of colour and the expressiveness of the tumult, it could be argued that a sketch such as this heralds the expressive use of colour characteristic of many of the founders of modern painting.