Cheval faisant une descente de main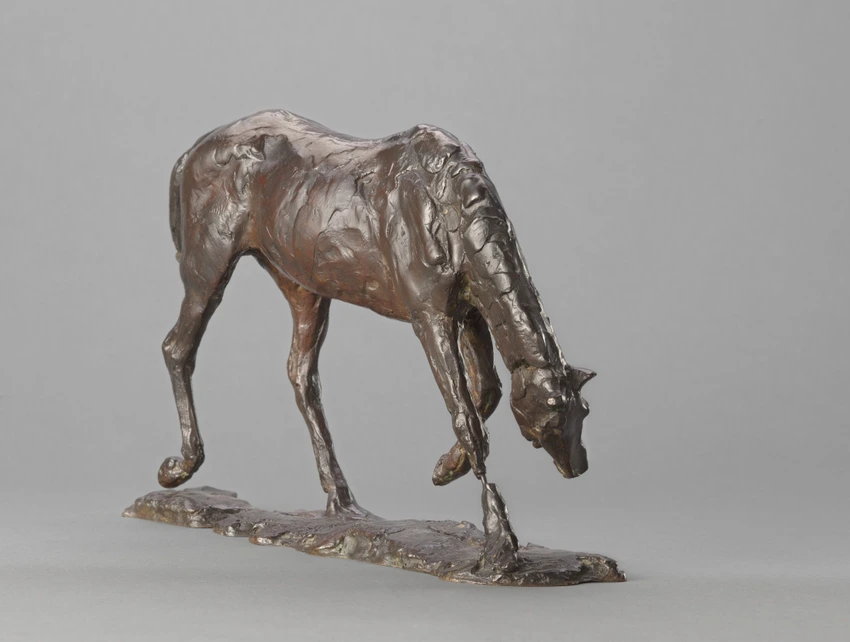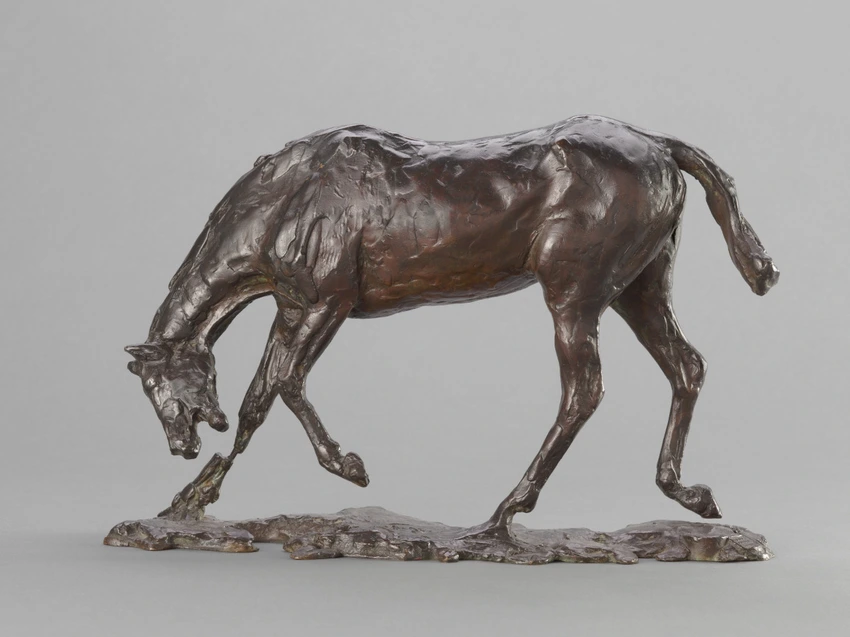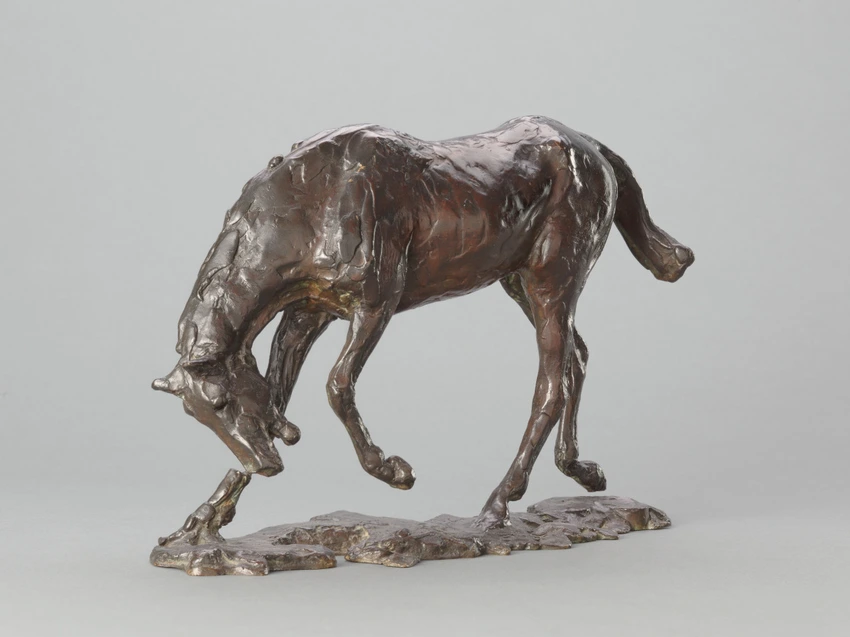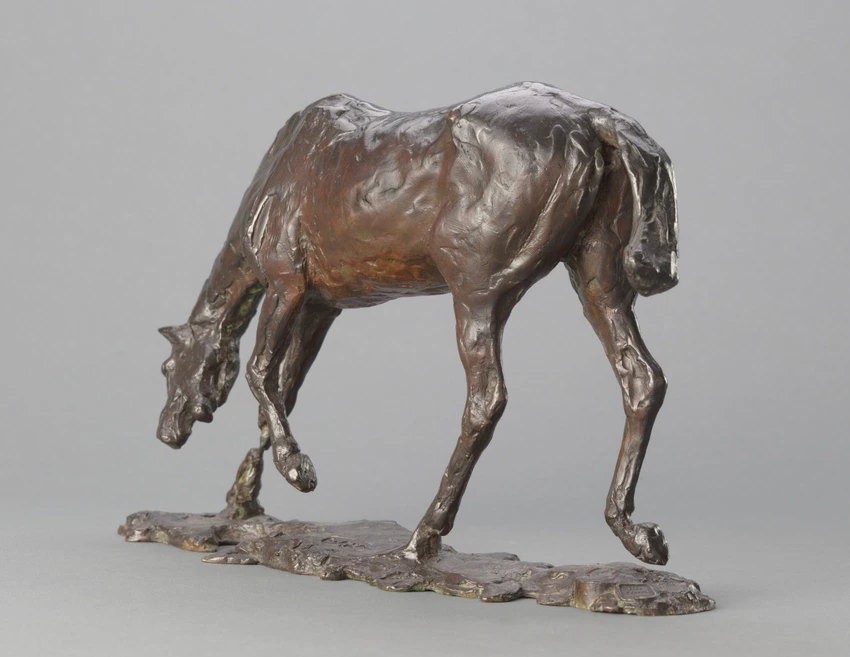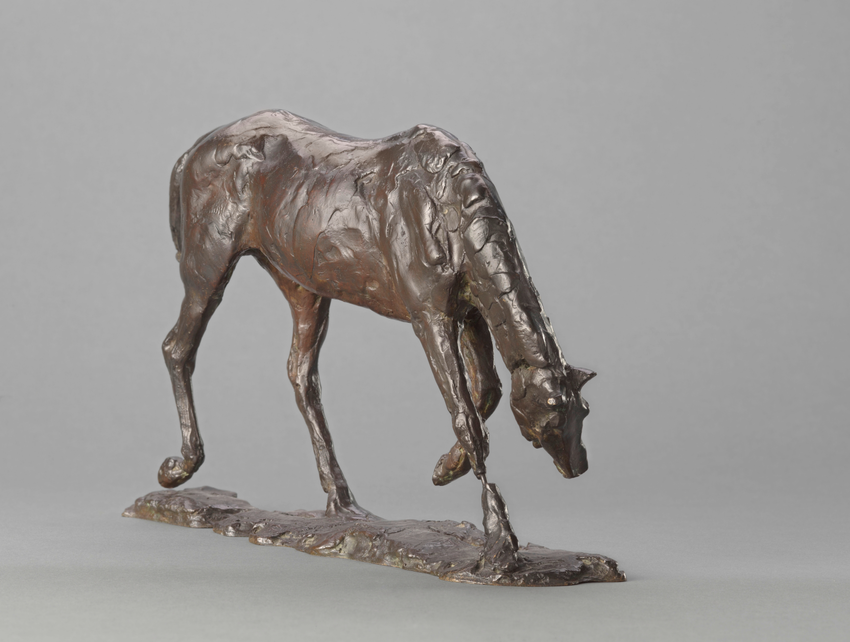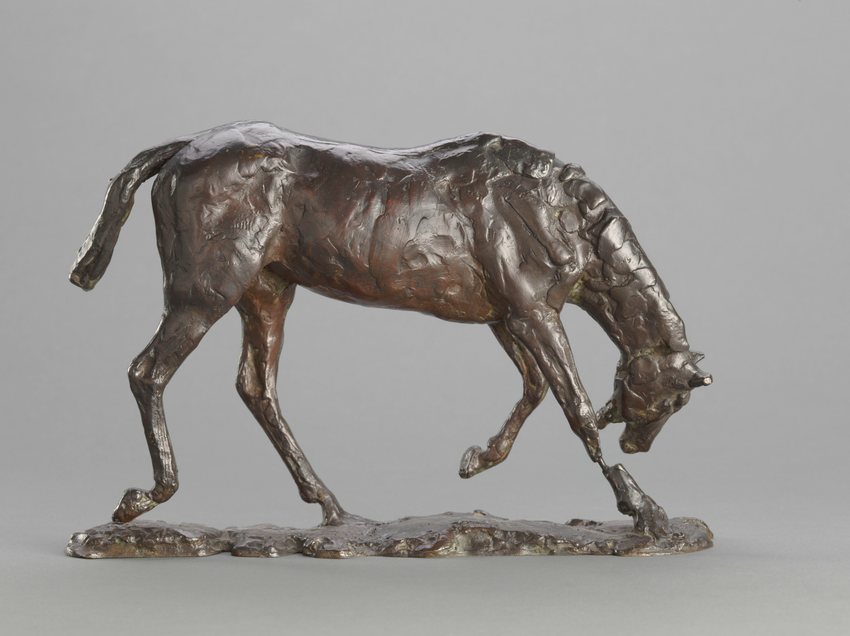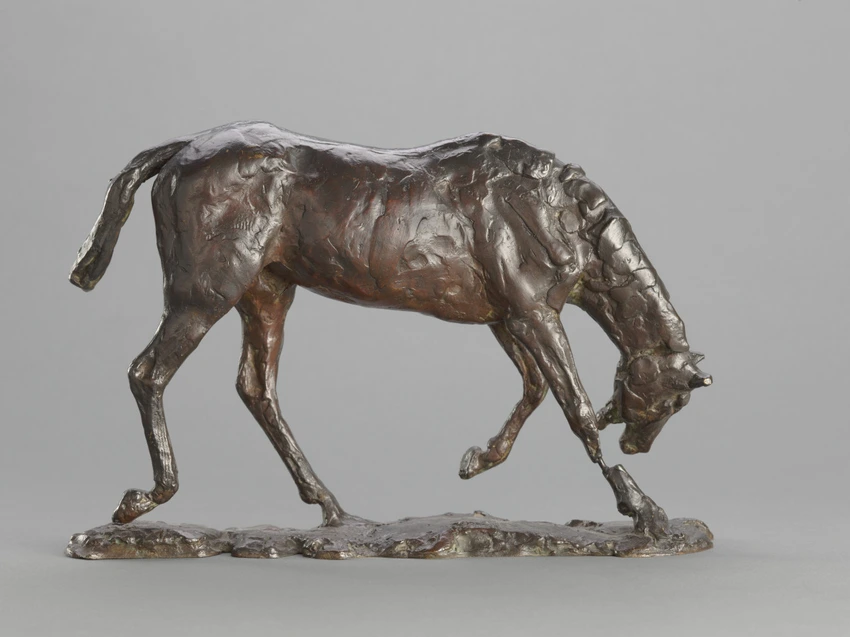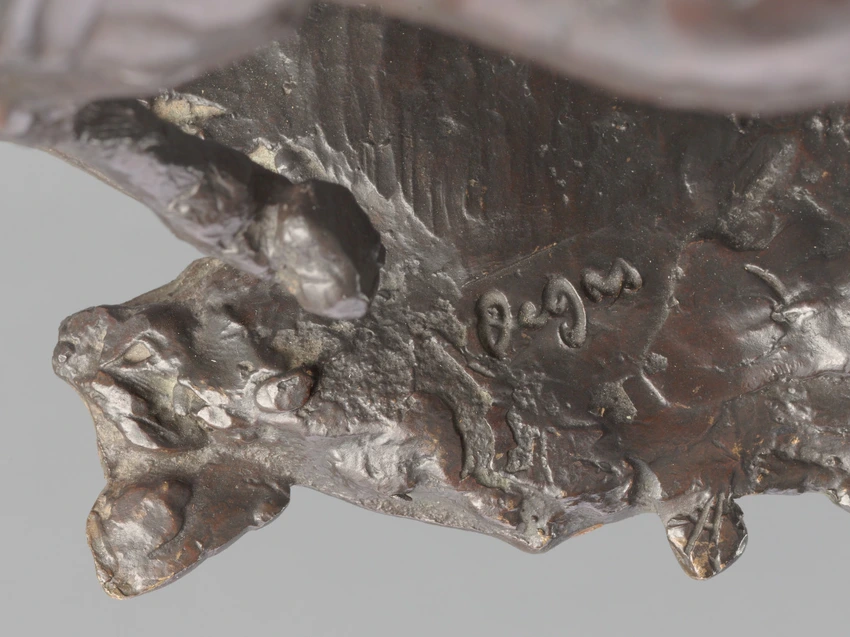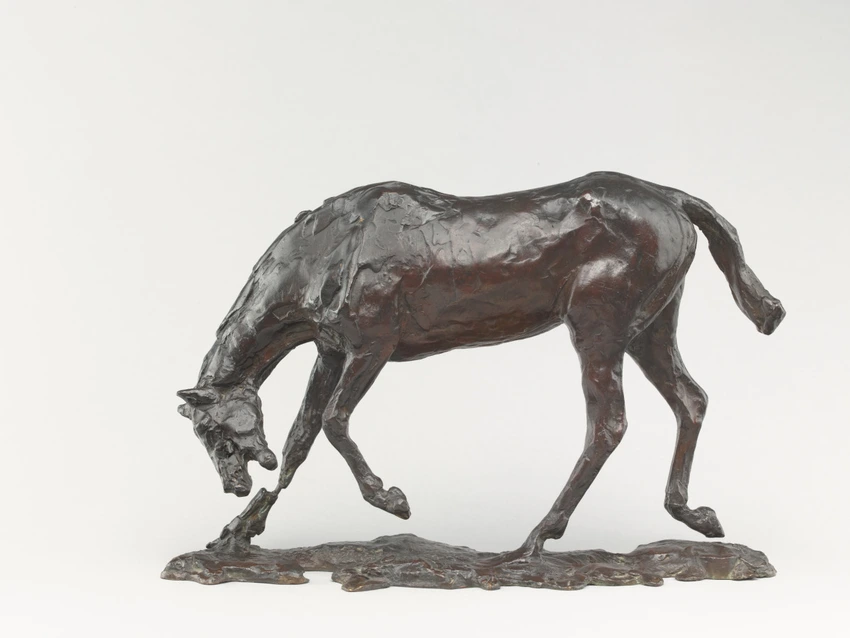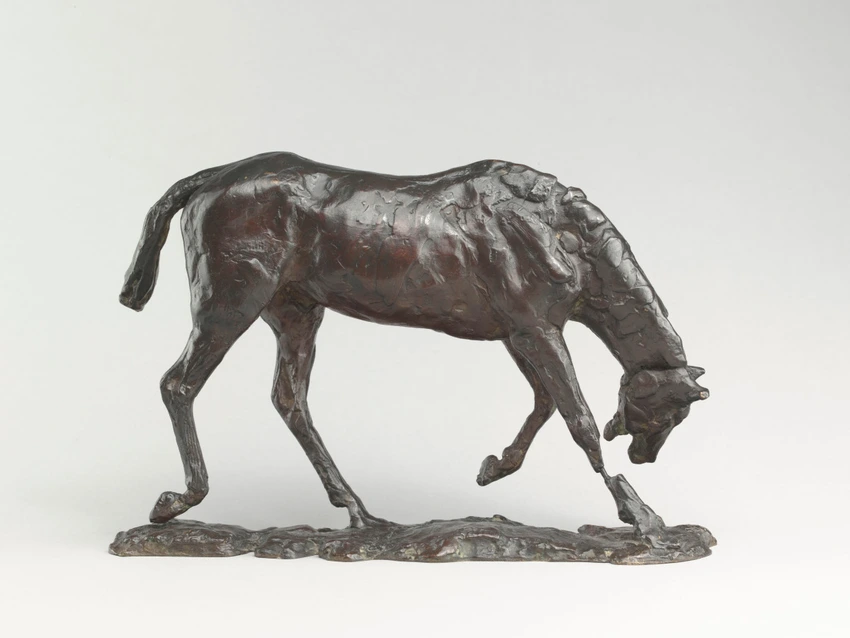 Edgar Degas (1834 - 1917)
Niveau supérieur, Salle 33
Resume
Artist(s)
Degas Edgar
auteur
Paris , Ile-de-France (France), 1834 - Paris, Ile-de-France (France), 1917
Hébrard Adrien-Aurélien
exécutant - fondeur
Paris , Ile-de-France (France), 1865 - 1937
Title(s)
Cheval faisant une descente de main
Date
Entre 1921 et 1931
Model date: Entre 1865 et 1895
Date de la fonte
Others accession number
Accession number
Description
statuette en bronze patiné
Dimensions
H. 18,6 ; L. 9,5 ; P. 28,1 cm.
Object details
Inscription(s)
cachet à l'arrière : CIRE PERDUE A.A. HEBRARD
au milieu de la terrasse à droite : DEGAS
gravé à côté : 22/P
gravé au-dessous : 22
Place of conservation
musée d'Orsay
Designation
statuette
Patine brune et vert orangé sous le ventre.
History - Provenance
1931, acquis grâce à la générosité des héritiers de l'artiste et des Hébrard (conseil du 01/12/1930, arrêté du 31/12/1931)

1931, attribué au musée du Louvre, Paris

de 1931 à 1974, musée du Louvre, Paris

1974, musée du Louvre, galerie du Jeu de Paume, Paris

1986, affecté au musée d'Orsay, Paris
Modality of acquisition
achat
Exhibition History
Degas, le modelé et l'espace - centre culturel du Marais - France, Paris, 1984 - 1985

Edgar Degas sculptures - musée des Beaux-Arts - France, Pau, 1988

Degas au musée Faure, sculptures/dessins - musée Faure - France, Aix-les-Bains, 1990

Degas en blanc et noir. Le jour et la nuit - musée Angladon - France, Avignon, 2004

Degas sculpteur - musée d'Art et d'Industrie André Diligent - La Piscine - France, Roubaix, 2010 - 2011

La beauté animale - Galeries nationales du Grand Palais - France, Paris, 2012

Degas Danse Dessin. Hommage à Degas avec Paul Valéry - musée d'Orsay, Paris - France, Paris, 2017 - 2018
Bibliography
Pingeot, Anne ; Le Normand-Romain, Antoinette ; Margerie, Laure de, Musée d'Orsay. Catalogue sommaire illustré des sculptures, Paris, Réunion des musées nationaux, 1986, p.133

Pingeot, Anne ; Horvat, Frank [photogr.], Degas, sculptures, Paris, Imprimerie nationale ; Réunion des musées nationaux, 1991, cat. 46, p. 175

Czestochowski, Joseph S. ; Pingeot, Anne, Degas Sculptures. Catalogue raisonné of the Bronzes, Memphis, The Torch Press and International Arts, 2002, p. 164-165
Suggestion
Do you have a question where you have additional knowledge about this work? You can write to us to suggest improvements to the file.
Make a suggestion