Etablissement de la Belle Jardinière, magasin ancien, coupe sur la rue des Marmousets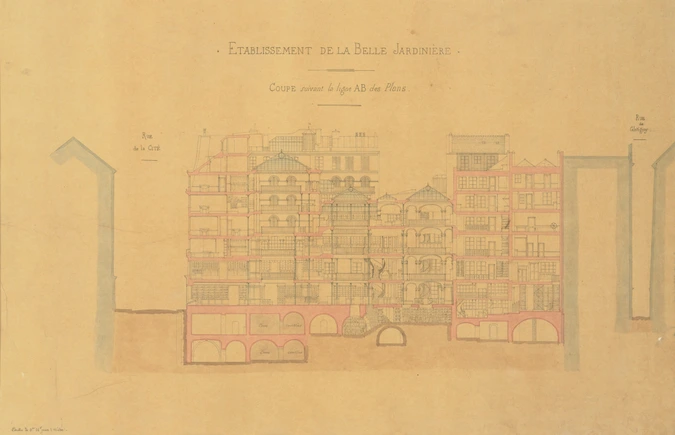 Jacques Blanchard (1827 - 1900)
This section of the Belle Jardinière shop, situated on the Île de la Cité in Paris, enables us to see the overall design of a revolutionary establishment. Its creation dramatically changed the habits of its customers and the way other shops in the capital, destined to become the "Grands Magasins" or large department stores, operated.
When he opened La Belle Jardinière between 1824 and 1827, Pierre Parissot introduced a new concept for selling clothes: ready-to-wear. The idea was to enable both the middle classes and the working classes to buy clothes that were made and sold on the same site. The lower floors were designed for the customers, while the upper levels were for the workshops and workers' lodgings. The success of La Belle Jardinière was such that Pierre Parissot had to continually enlarge his shop by annexing the adjoining buildings. This continued until he was served with a compulsory purchase order in the mid-1860s for the construction of the new Hôtel-Dieu hospital.
These plans and sections of the buildings in the rue des Marmousets demonstrate the idea of a central hall with galleries leading to the sales areas, the workshops and the workers' lodgings. Interlinking the buildings made the whole structure very complex, increasing the numbers of levels, corridors and partitions. Three enormous roof lights are visible, creating what must have been very light spaces. Cast iron pillars separate the different areas. The basements reveal the existence of former medieval vaulted cellars.
The creator of this very beautiful architect's drawing is today unknown. It might have been Jacques Blanchard, husband of Elisabeth Parissot who inherited part of the store. Moreover, this drawing was found in the family archives of Henri Blanchard, also an architect and Jacques' son.
Artwork not currently exhibited in the museum