Femme à l'ombrelle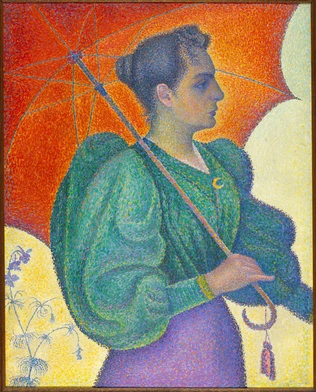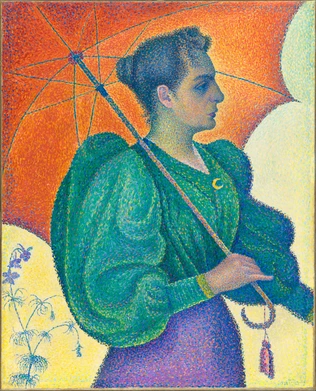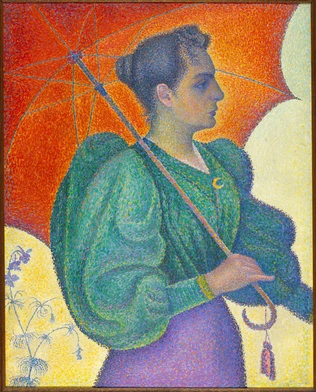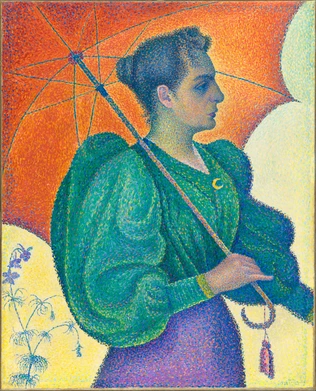 Paul Signac (1863 - 1935)
Niveau supérieur, Salle 36
The Woman with a Parasol is Berthe Roblès (1862-1942), a distant cousin of Camille Pissarro, whom Paul Signac had met in the early 1880s when he was an habitué of the cabaret Le Chat Noir. She lived with him from then on and became his wife on 7 November 1892, a few months before this picture was painted.
Finished portraits in a Neo-Impressionist style are rare in Signac's oeuvre. This one is the last of a series on his close family and friends, which includes the famous portrait of the writer and art critic Félix Fénéon (1890), now in the MoMA, New York.
In this side view of a woman sheltering under her parasol, Signac has taken up a theme already treated by the Impressionists, especially by Claude Monet in his two Attempts at a Figure in the Open Air, in the Musée d'Orsay. However, he interprets the subject in a purely Neo-Impressionist manner. The painting plays on the simultaneous contrast of the colours, particularly green-orange/red and yellow-purple. The canvas is deliberately two dimensional, with no illusion of depth and the modelling is limited to the play of shadows over the face. Although the stylised effect of the work is reinforced by the model's frankly hieratic pose, the arabesques in the sleeves, the parasol and details like the stylised flower or the tassel on the handle accentuate the decorative look Signac was striving for.