Fougères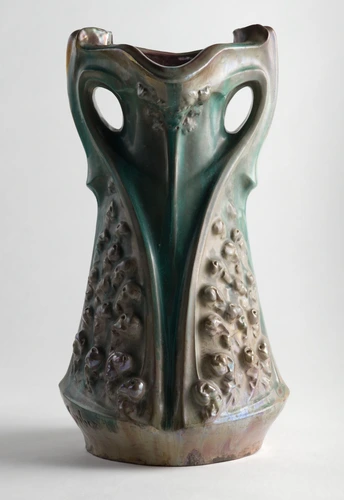 Jacques Gruber (1870 - 1936)
Artwork not currently exhibited in the museum
After studying painting in Nancy and then in Paris between 1884 and 1893, Jacques Gruber returned to Lorraine to take up a position as a teacher of decorative design at the Nancy School of Fine Art. He was probably the first artist in the Nancy School to design models for the Société Anonyme des Produits Céramiques de Rambervillers whose director, Alphonse Cytère, had decided to add an artistic branch to his utilitarian production. In 1904, he designed the vase decorated with ferns and showed it at the exhibition of the Nancy School in Nancy the same year.
The "Ferns" vase is sturdy, solidly planted on its base and traversed by an uninterrupted vertical thrust. Gruber adapted the plant motif so that the décor was not applied but participated in the rhythm of the object itself, demonstrating his great skill in reconciling form and décor. The body of the vase tapers towards the neck and as the fern is shown in an early stage of development the leaves are still furled and bigger at the base than at the tip.
Ferns, like umbellifers, are emblematic of the production of the Nancy School. Gallé and Majorelle for example used them extensively in their furniture. A quintessential woodland plant, fern lent itself particularly well to the project of the artists of the Nancy school helping them bring biological life into fin-de-siècle city way of living.