Grand nu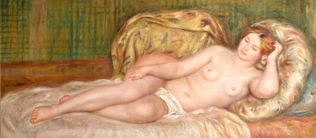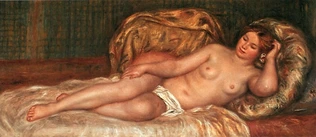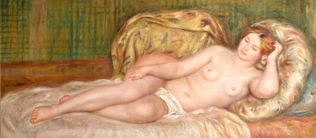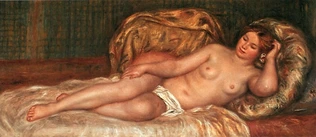 Auguste Renoir (1841 - 1919)
Renoir's female nudes, a favourite motif throughout his career, were more often painted in outdoor light than inside a room.
In the 1890s, Gustave Geffroy described his models as "instinctive little beings, at once children and women". Later, his work became more ample, tracing its descent from Rubens and Titian.
For this almost buxom nude, Renoir gave up touches of bright colours and restricted his palette to a harmonious range of more subtle tones. The body bathed in a gentle, warm light is lying on soft cushions like a jewel in a casket. Supple and elegant, the reclining figure is closer to Ingres's odalisques than Manet's Olympia.
This chaste rather than voluptuous nude is no doubt the last and most elaborate version of a series of three paintings executed between 1903 and 1907, one of which is in the Musée d'Orsay. It is situated chronologically between two other works by Renoir in the Musée d'Orsay: Torso: Effect of Sunlight (1875-1876), an early work, and Bathers (1918-1919), which is characteristic of his last manner.
This Large Nude thus enables us to understand Renoir's development towards a style nourished by references to classical art. In the twentieth century, artists such Henri Matisse and Pablo Picasso in their turn took inspiration from Renoir's later nudes.
Artwork not currently exhibited in the museum