Grand plat ornemental à décor de combat de coqs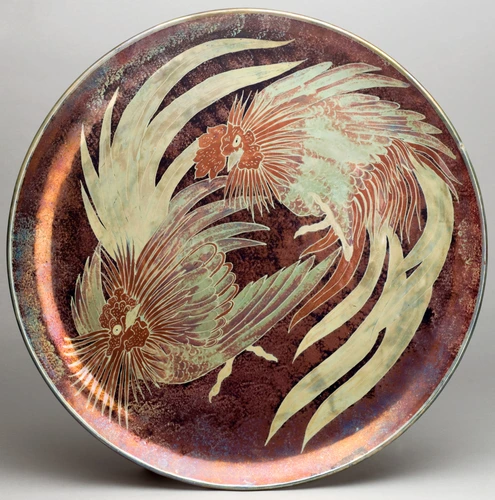 Lucien Desmant (1875 - 1929)
Artwork not currently exhibited in the museum
In the tradition of faience with metallic glints, which in Europe goes back to Hispano-Moorish ceramics, many designers in the second half of the nineteenth century and the early twentieth century pursued technical research into the iridescent and metallic effects obtained with glaze. Art lovers delighted in them, to judge by the quantity of faiences produced by this method and the flourishing activity of the greatest ceramists of the time. Louis-Étienne Desmant was one of them. After his death, the family workshop was taken over by his son Lucien. He applied his father's aesthetic and stylistic lessons to the letter, to the extent that it is often hard to distinguish between them.
This dish, however, is clearly signed by Lucien: the décor shows two cocks fighting or rather tangled together. Their plumage is magnificently treated in brilliant reds heightened by the effect of the glaze.
With its centrifugal, energy-filled composition, this strutting face-to-face, in which the plumage of the two birds seems to fuse, borders on abstraction. Like his father, Lucien Desmant took his models from Japanese prints: there are many examples of such subjects, without the panache of colour, in the Encyclopédie illustrée japonaise or the Albums Reiber which the brilliant decorator Emile Reiber published as a resource for artists. A series that Reiber called "Japanese sketches" includes a plate showing two cocks with feathers as flowing and graphic as those on Desmant's platter.