Immeuble parisien, angle de l'avenue du Maine et de la rue Mouton-Duvernet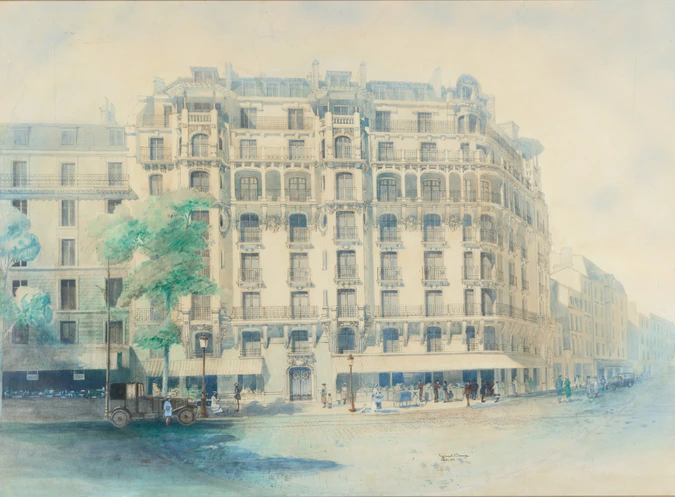 Raoul Brandon (1878 - 1941)
The decree of 13 August 1902 bringing in new provisions for the construction of Parisian buildings was another step (after the decrees of 1882 and 1884) towards abandoning the uniform alignment of buildings originally imposed by Haussmann. This measure, which gave architects more freedom, encouraged a move towards more picturesque styles, allowing curves and breaks in the facades and projecting balconies and bow-windows. Raoul Brandon took full advantage of these possibilities in the many apartment buildings he built in the years before the First World War.
Planning permission for 172 avenue du Maine was granted on 2 January 1912, and the building was signed jointly by Raoul and his brother Daniel Brandon, as can still be seen today on the facade. The façade is punctuated vertically by projections, oculi and a canopy; horizontally by cantilevered balconies on the first floor and a wide loggia along the fourth floor. The upper storeys are progressively set back to give greater visual presence to the loggia. The building also stands out for the shape of the corner which enhances the loggia and its arcades, recalling the wooden structures of regional houses. A heliogravure in the Musée d'Orsay reveals that originally there was to have been a cupola above the arched window on the corner.
Brandon used up-to-date construction techniques such as reinforced concrete, while retaining an Art Nouveau style tempered with a certain classicism. The sculptural decorations play an important role (the sculptor Binaux signed the façade); he turned to Art Nouveau for inspiration for his motifs of flowers, fruits and masks. As in so many of this architect's drawings, this is particularly well drawn, revealing his desire to be recognised by future generations. The presence of people and cars in the drawing emphasises the exceptional location of the building in one of the most rapidly changing areas of the modern capital at that time, not far from Montparnasse.
Artwork not currently exhibited in the museum