Jane Avril dansant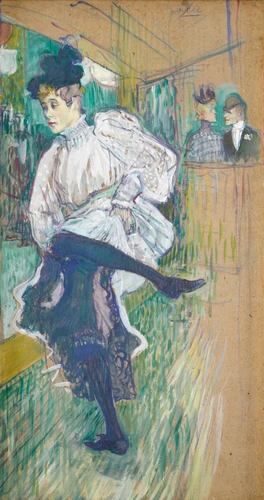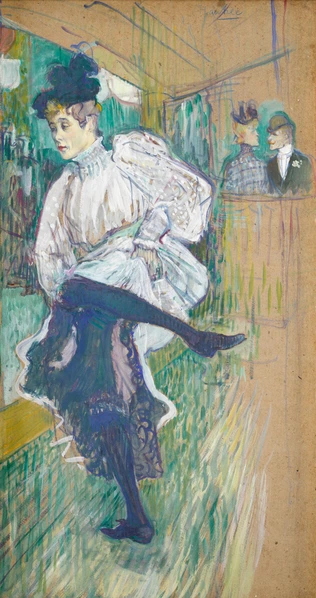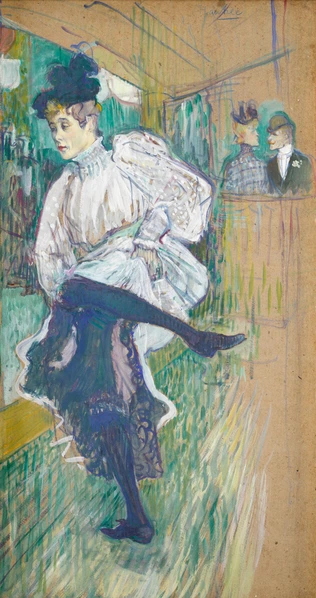 Henri de Toulouse-Lautrec (1864 - 1901)
Niveau supérieur, Galerie Françoise Cachin
Like La Goulue and the female clown Cha-U-Kao, Jane Avril was part of the night life and show business that Toulouse-Lautrec loved to portray. The daughter of a demimondaine and an Italian aristocrat, Jane Avril started to dance at the Moulin Rouge, continued her career at Les Décadents, then went on to Le Divan Japonais, before triumphing at Les Folies-Bergère. Although her fragile rather ethereal look made her a figure apart in this shady world, on stage she proved to be an acrobatic dancer, full of energy and grace. She was even regarded by her contemporaries as the 'incarnation of dance'.
Using the fluidity of oil paint diluted with turpentine, the artist has caught the elegance of the dancing silhouette and the liveliness of her kicks. With the force and economy typical of his style, Lautrec sketched in broad strokes the essential of the dancer's movement and rendered a few elements of the setting in which she was performing her solo number. Two figures appear in the background, on a piece of the cardboard left almost blank. Although the woman in the hat is unknown, the man on her left is the impresario Warner who served as a model for the famous lithograph known as The Englishman at the Moulin Rouge.
A lifelong friend, Jane was at the centre of several other works by Toulouse-Lautrec, and posters for Le Divan Japonais or Le Jardin de Paris, in 1893, which made the name of artist and model alike.