La Légende bretonne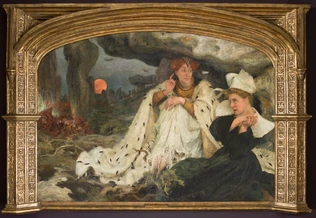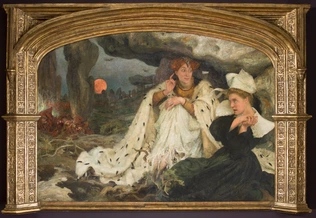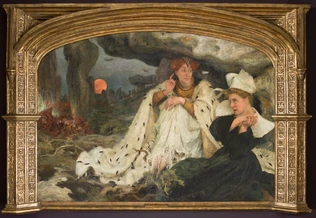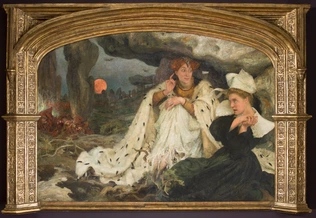 Edgard Maxence (1871 - 1954)
Breton Legend is one of Edgard Maxence's most ambitious Symbolist compositions, painted during his period of artistic maturity. Sheltering under a dolmen, in the light of a full russet moon, a young girl dressed in a Pont-Aven costume appears to be terrified by the appearance of a fairy or sorceress wearing an ermine cloak and a dress embroidered with traditional motifs. This figure appears to be a harbinger of doom, born out by the appearance of red korrigans, the tiny, malevolent elves of Breton legends.
Maxence, who was born in Nantes, always had a strong affection for his native region, but this focus on Breton folklore is quite rare in his work, which is usually marked by a more subtle, mystical symbolism, influenced by the English Pre-Raphaelites.
The probable reason for the marked regional characteristics here is that the painting had been commissioned. Breton Legend was in fact intended to decorate the private mansion in Paris of Louis-Gustave Richelot (1844-1924), a famous surgeon and gynaecologist of the time, who was also from Nantes.
Doctor Richelot, a pupil of César Franck and passionate about music, used to organise soirées and concerts at his home, where he played the piano and performed his own compositions. Amongst his many compositions was a Breton Legend, composed in 1905, a piece for voice and orchestra. Maxence's painting could be a pictorial interpretation of this piece.
The painting is thus in harmony with the movement that flourished during the Belle Époque, affirming the Breton cultural identity. With touches of humour, the painter depicts this confrontation between Christian Brittany on the one hand, renowned for its austere, uncompromising fervour and represented by the young peasant girl, and magic, pagan Brittany on the other, embodied in the korrigans and the fairy appearing in the megalithic alignments.
Artwork not currently exhibited in the museum