La Maison de Solness le Constructeur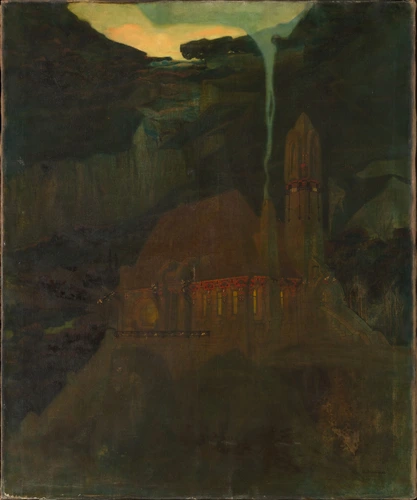 Henry Provensal (1868 - 1934)
Presented in the architecture section at the Société Nationale des Beaux-Arts exhibition in 1903, Provensal's design came as a surprise set amid the pragmatic creations of his fellow architects. He was inspired by Hendrik Ibsen's play, Solness the Masterbuilder, published in 1892. His House of Solness can be compared to the dark, tormented character of the play's hero, whose whole world radiates with the "Black Sun of Melancholy".
In Provensal's painting, the dwelling seems to be at one with the mountain, rising up vertiginously above the void. This vision emanates an oneiric, poetic and mysterious atmosphere. Cloaked in smoke and clouds, the building stands out from the mountain "with its high windows seemingly lit in pale gold, like the windows of a church". Its style and decorative details are reminiscent of certain contemporary Art Nouveau buildings in Holland.
This work offers a perfect illustration of the theories Provensal published in L'art de demain, vers l'harmonie intégrale in 1904. In his view, the architect should turn his gaze "towards those distant shores where truth is dying, and should reveal, in forms, that dream of infinity he carries within him, and which is, in the end, nothing more than the innate desire for immortality slumbering within all human conscientiousness". This was before 1905, when Provensal became the assistant architect for the Rothschild Foundation for building workers' houses and low cost accommodation, professional reality being far removed from dreams and ideals.