La Paye des moissonneurs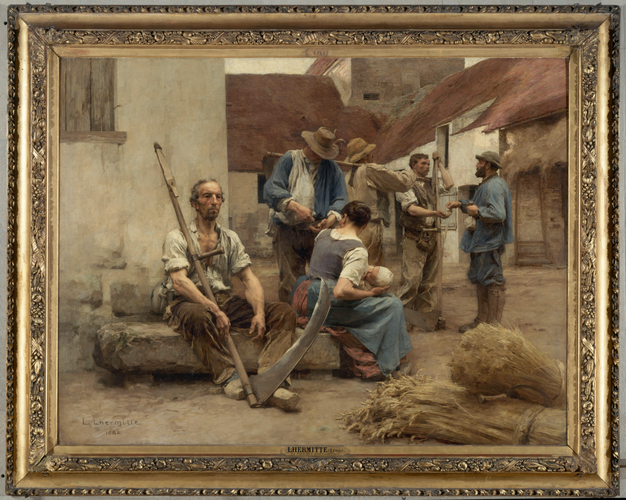 Léon Lhermitte (1844 - 1925)
Léon Lhermitte was born in the Aisne and lived there until he was about twenty, which explains his deep attachment to rural life and the focus of his prolific production on the work and daily life in the countryside of his time.
He came from a humble family and for many years earned his living with minor engraving work in France and England, before winning recognition at the Salon from 1874. Fame came after 1880, when the artist successively entered several large paintings depicting the life and people of his native village of Mont-Saint-Père. The Cabaret in 1881, this Paying the Harvesters in 1882 and The Harvest in 1883 used the same figures which can be identified from one painting to another. It is easy to recognise, on the left of the scene, the reaper Casimir Dehan, sitting absent-mindedly or resignedly on the bench, after the work is done.
The subject and technique of Paying the Harvester belong to the Naturalist movement. However Lhermitte did not make this painting into a manifesto against the grinding toil of agricultural labourers as Jules Bastien-Lepage did in his painting Haymaking in 1877, also in the Musee d'Orsay. He was content with a bald statement devoid of polemics in which he uses his great artistic skill, from the remarkably balanced overall composition to the extremely precise rendering of the tiniest details.