L'Assaut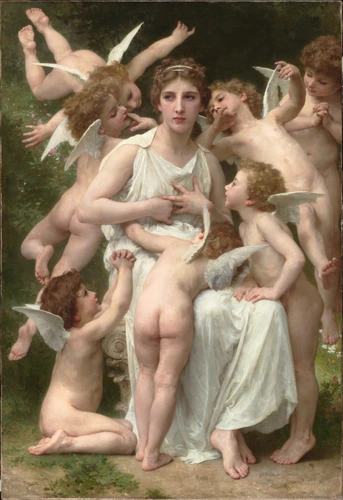 William Bouguereau (1825 - 1905)
Artwork not currently exhibited in the museum
The Assault is one of the works that brought the artist enormous commercial success during his lifetime, particularly in America. When exhibited at the Salon des Artistes français in 1898, it aroused the enthusiasm of the painter Jean-Joseph Benjamin-Constant, who exclaimed: "It's a veritable assault. Alas! The girl is besieged! The girl is smitten! Love's messengers come in very pretty forms, and with unusually bold foreshortening!"
The painting is typical of a style of work that had been perfectly adapted to public tastes. The subject, love's awakening, was certain to be popular, as was the mythological setting evoking the grace of painting in times gone by. In fact, Bouguereau was going back to Antiquity, but to a mellow view of Antiquity woven through with echoes of 18th century masters (like Joseph-Marie Vien, 1716-1809), playing on the sensibilities of buyers who had been won over by technical virtuosity and a Symbolism they could easily understand.
This romantically inspired theme resulted in many paintings with similar compositions, proof of Bouguereau's keen awareness of market forces.