L'Atelier du peintre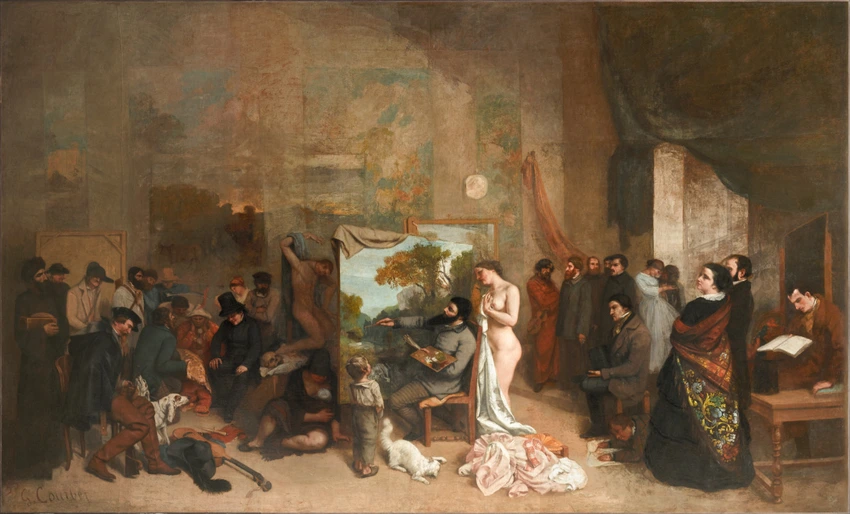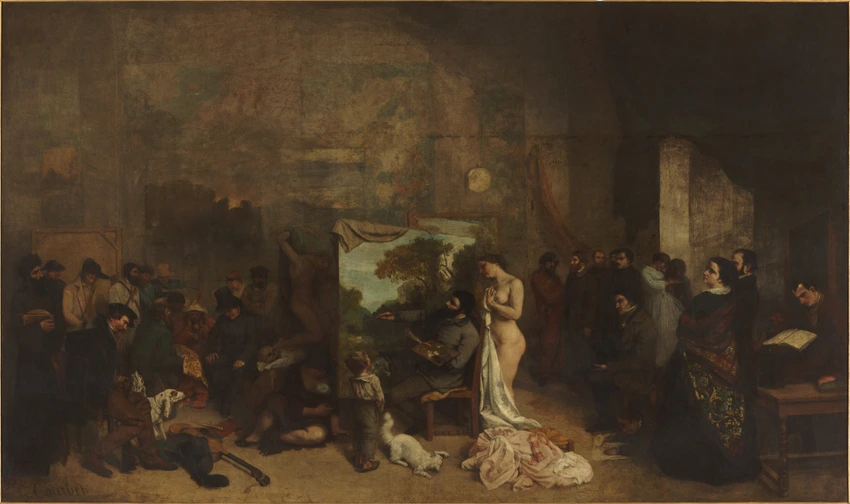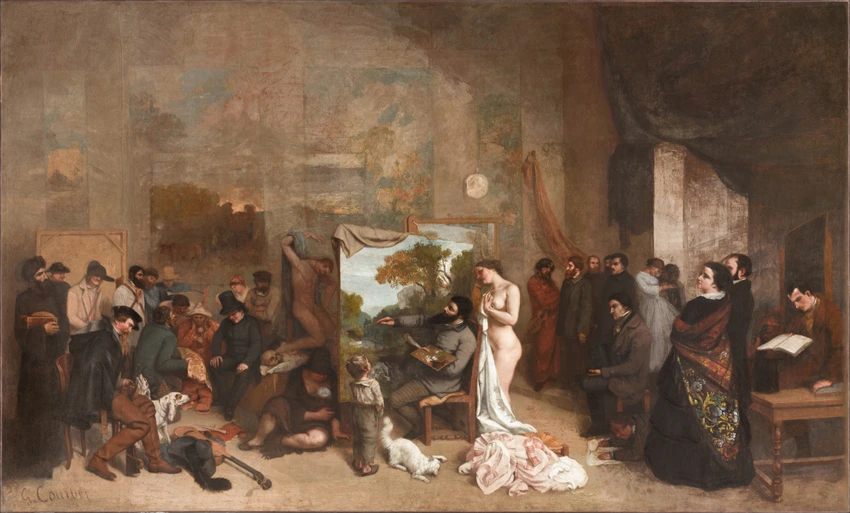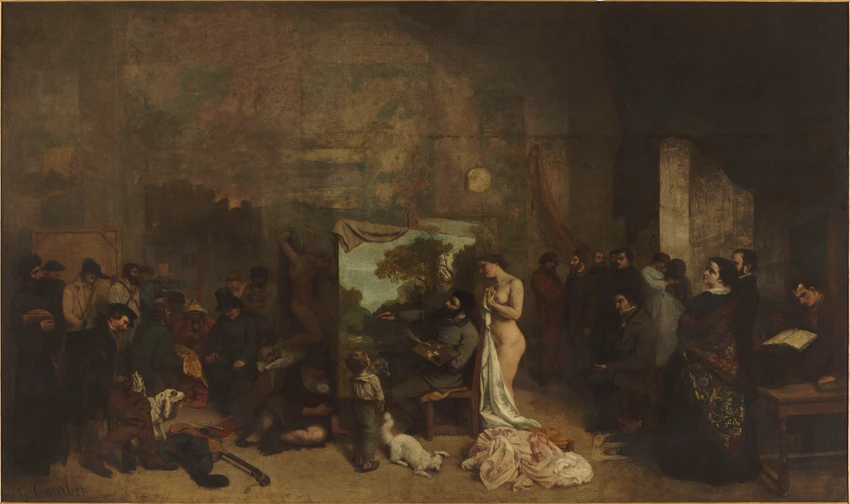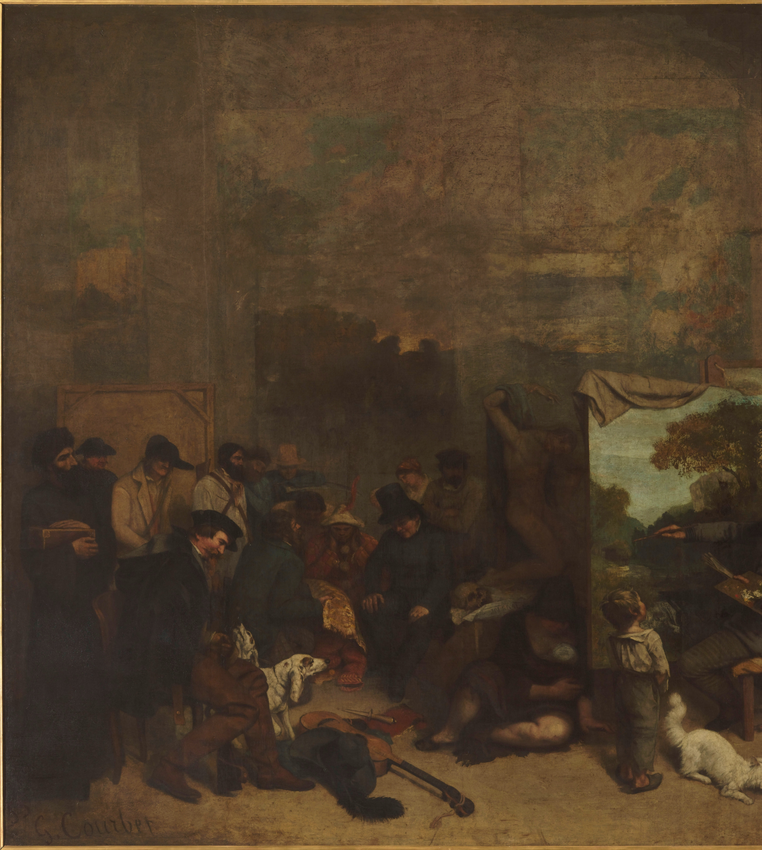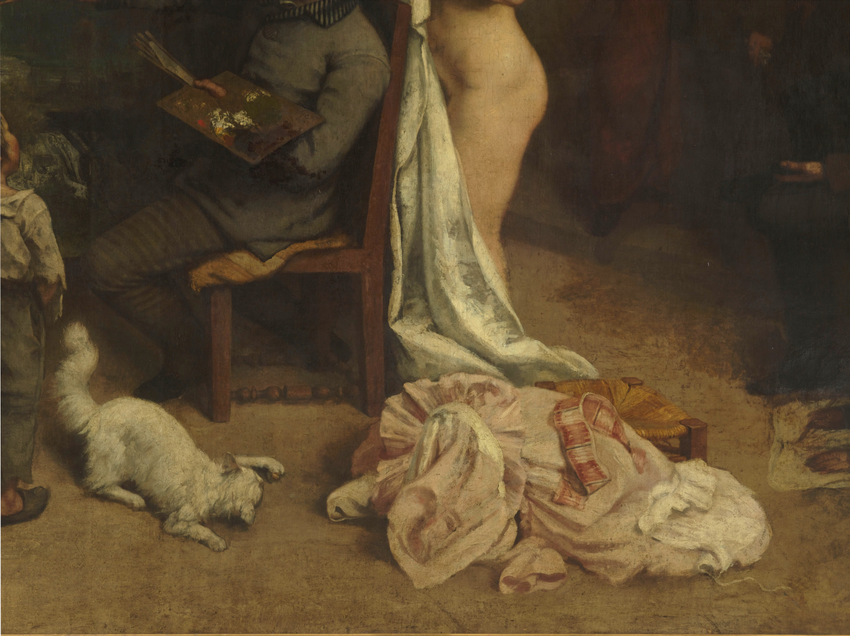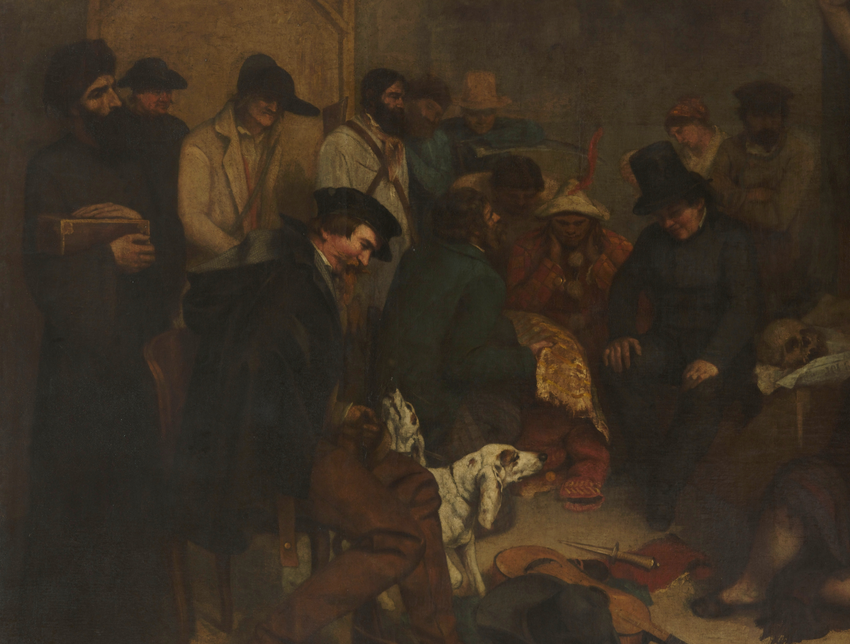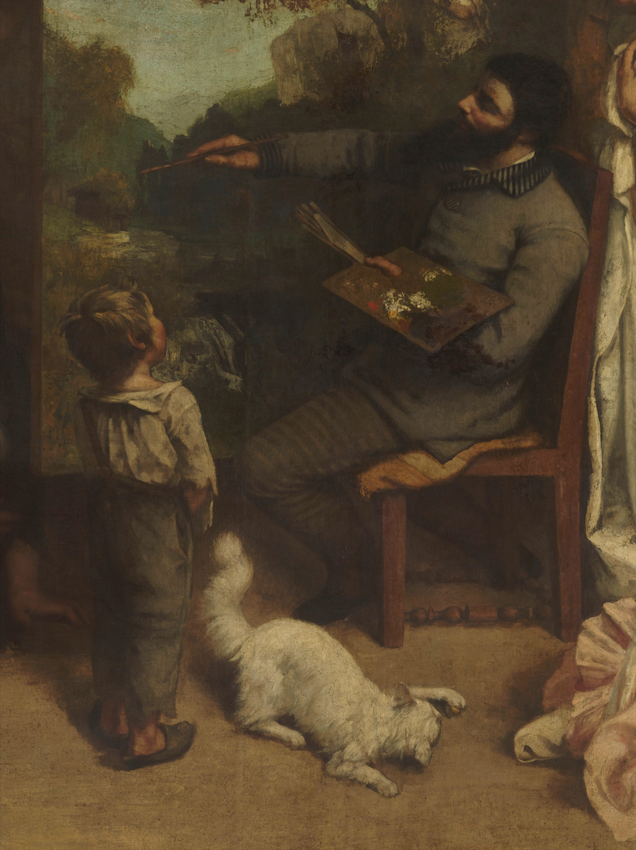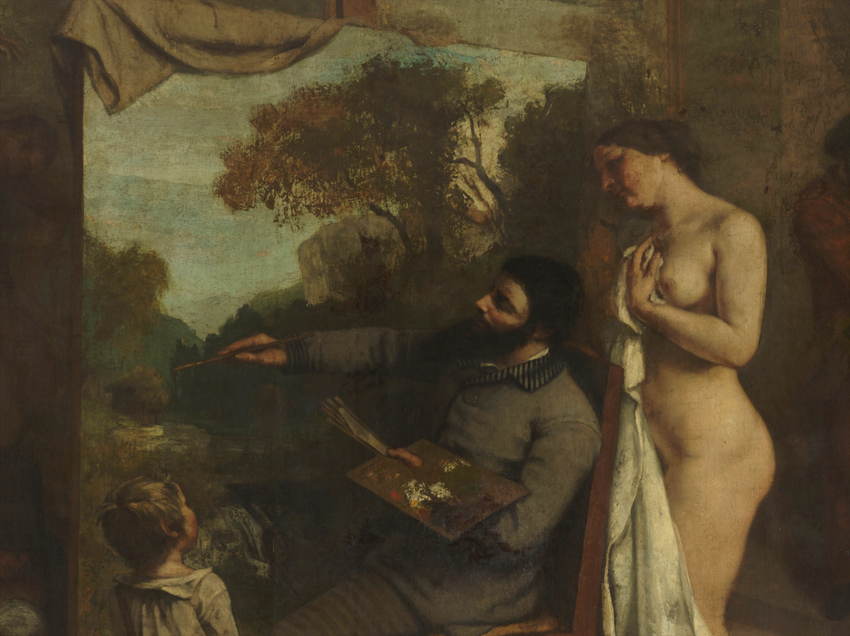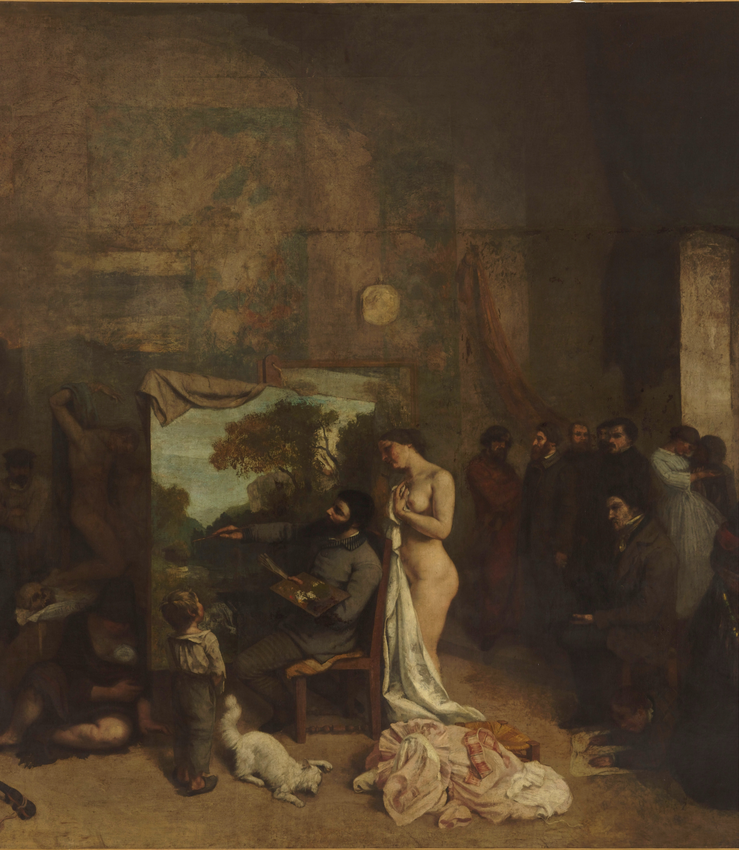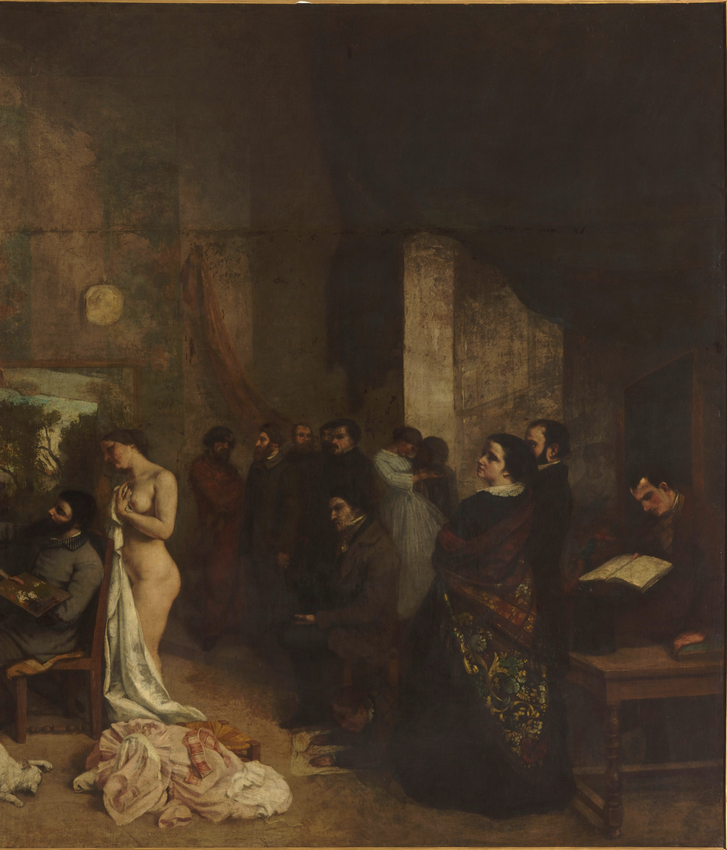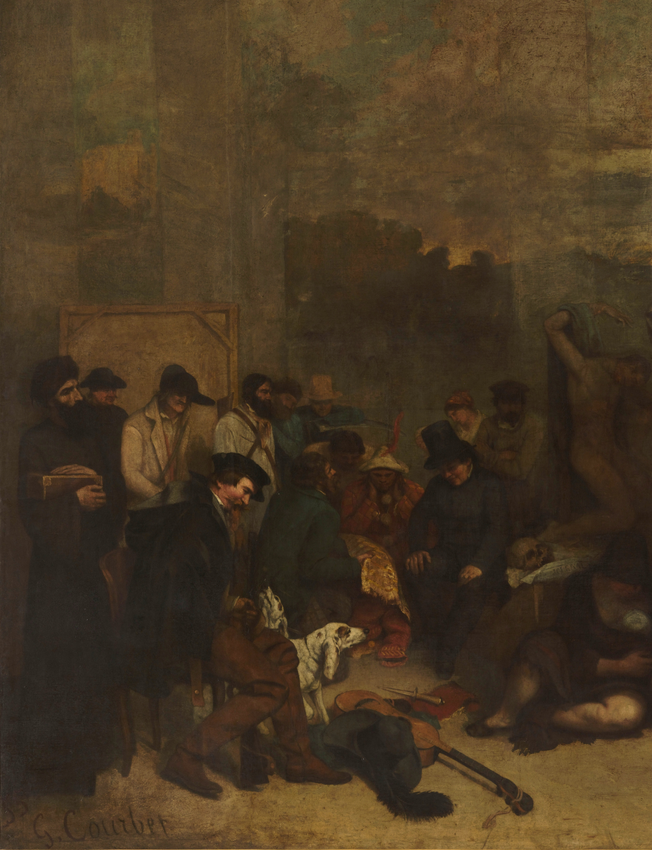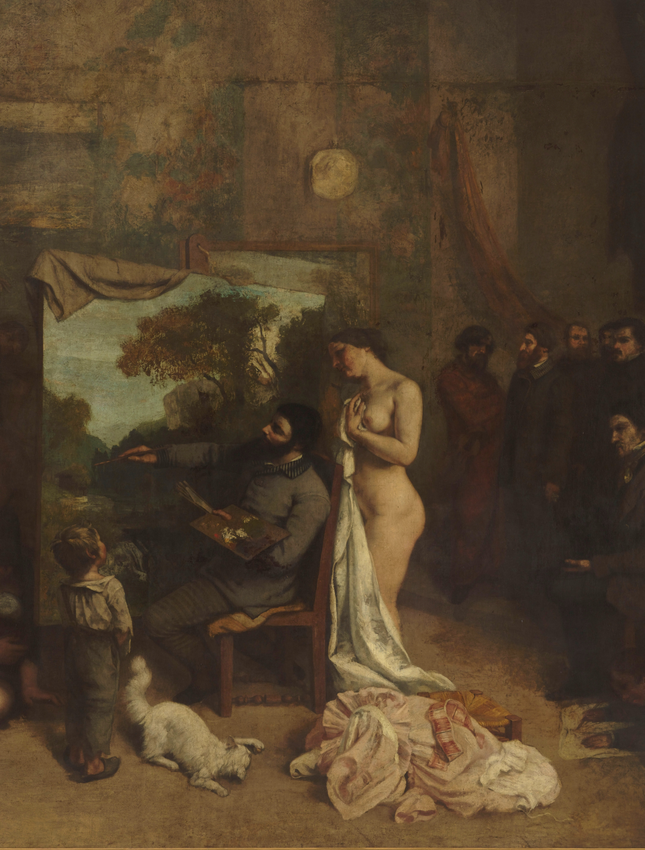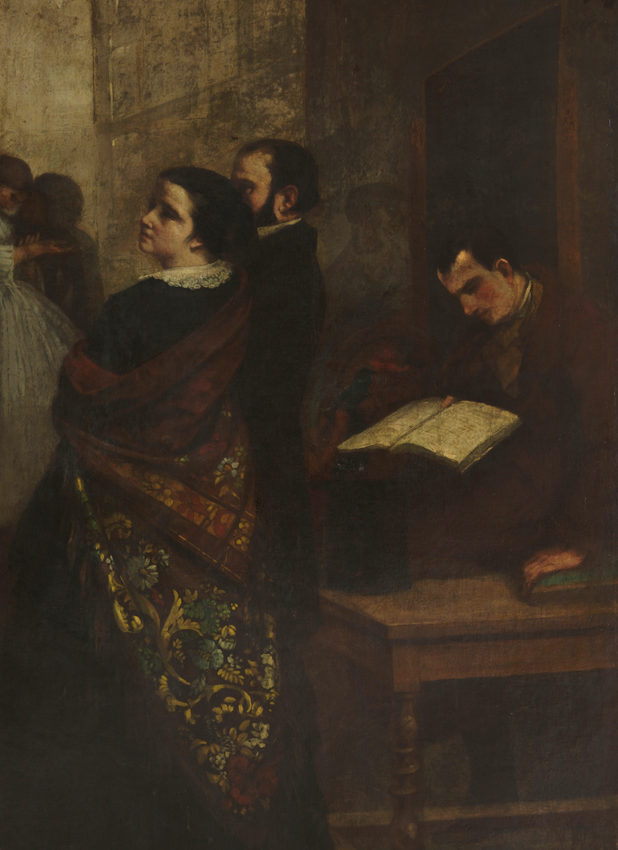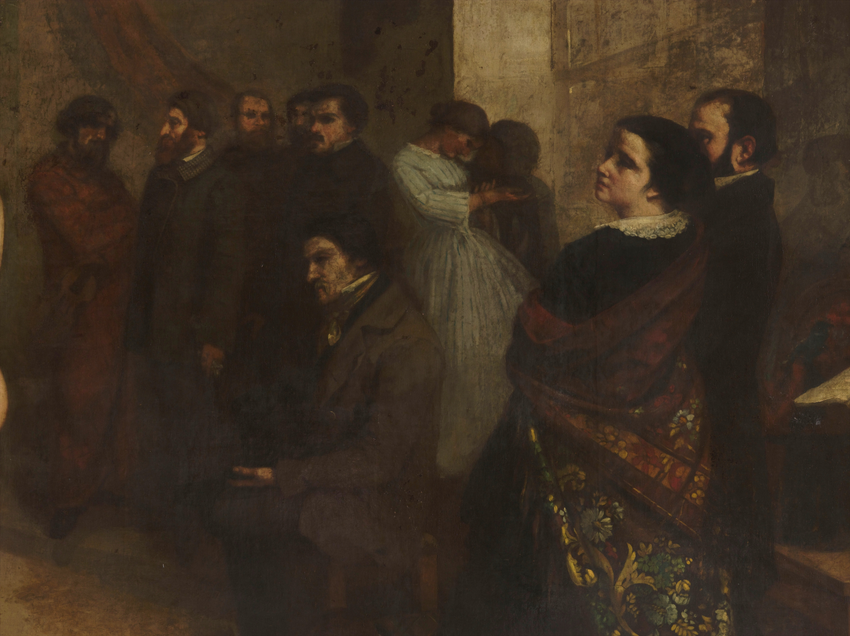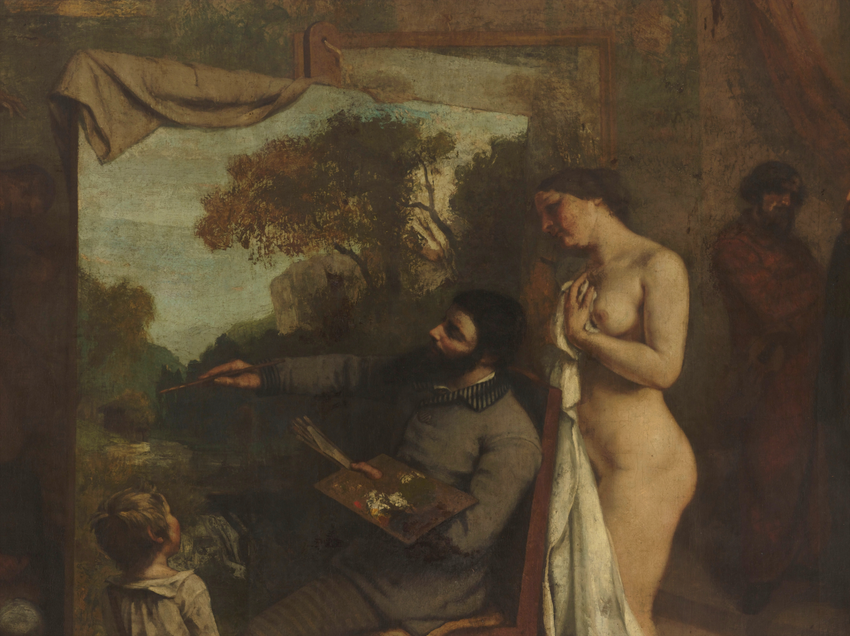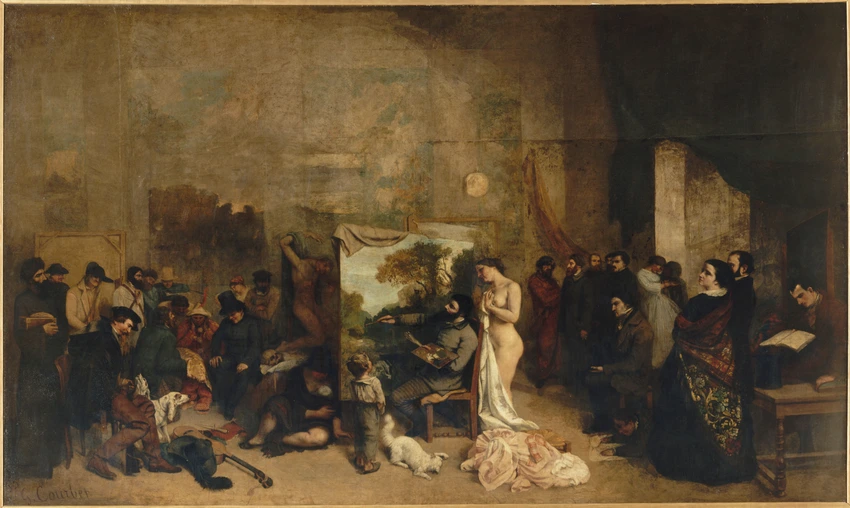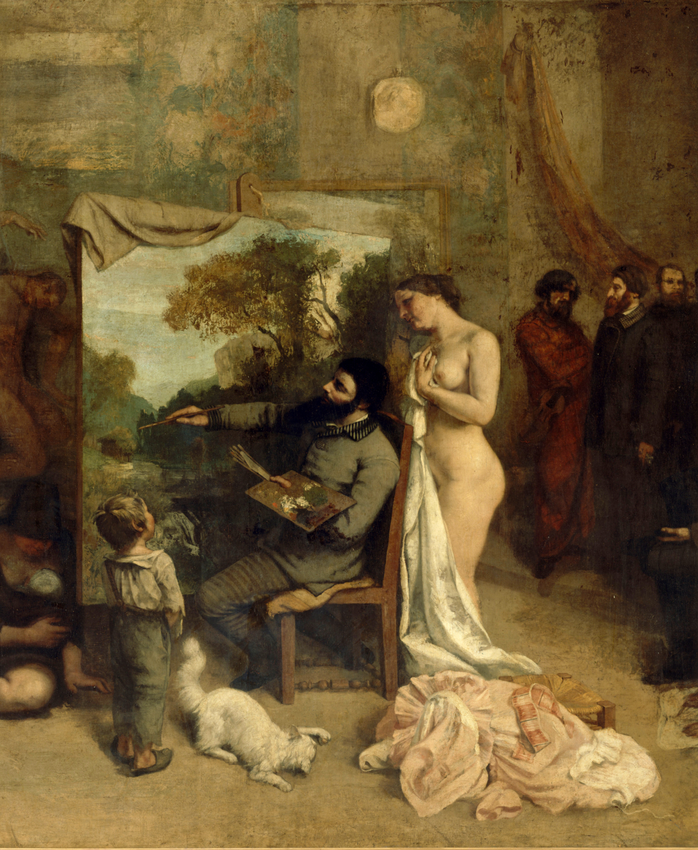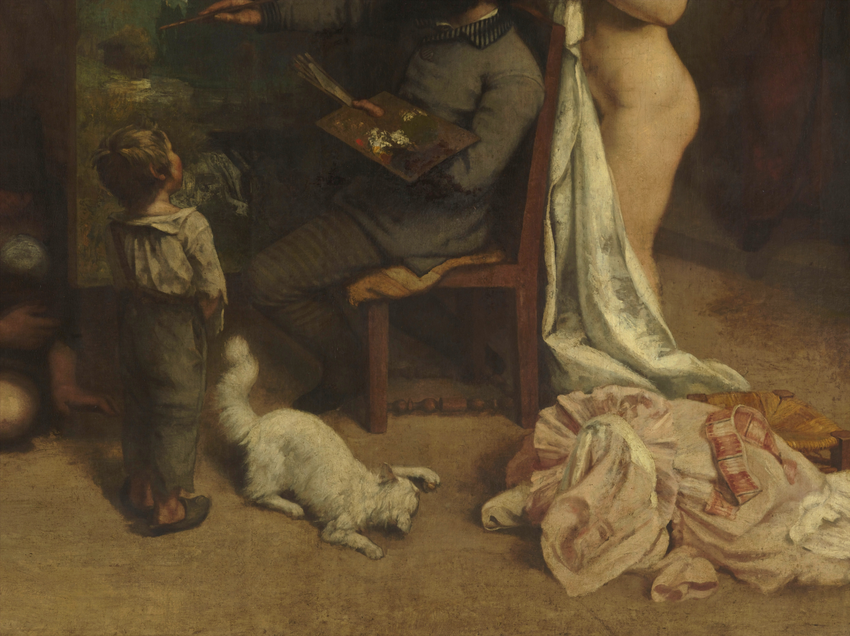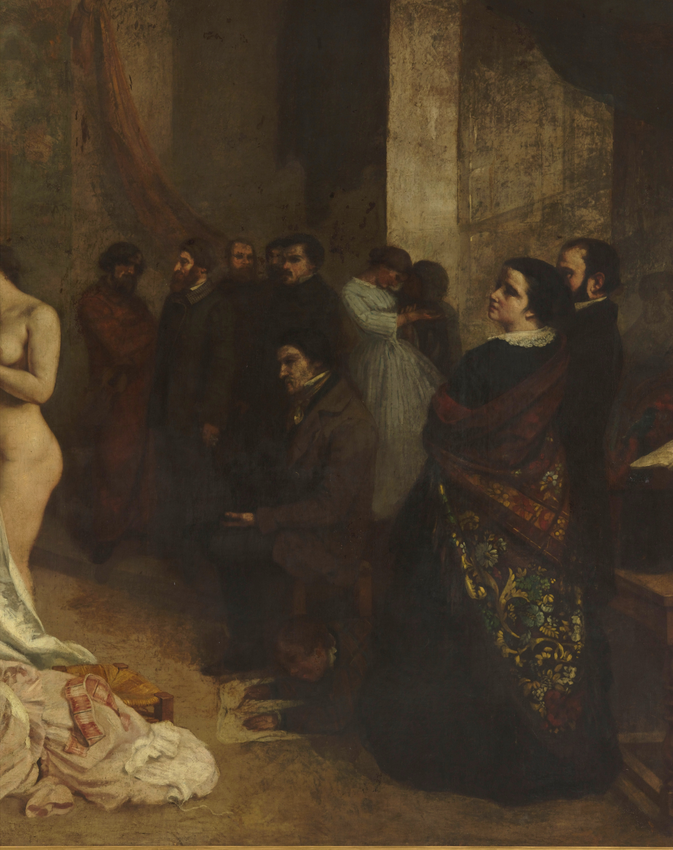 Gustave Courbet (1819 - 1877)
The enormous Studio is without doubt Courbet's most mysterious composition. However, he provides several clues to its interpretation: "It's the whole world coming to me to be painted", he declared, "on the right, all the shareholders, by that I mean friends, fellow workers, art lovers. On the left is the other world of everyday life, the masses, wretchedness, poverty, wealth, the exploited and the exploiters, people who make a living from death".
In the first group, those on the right, we can recognise the bearded profile of the art collector Alfred Bruyas, and behind him, facing us, the philosopher Proudhon. The critic Champfleury is seated on a stool, while Baudelaire is absorbed in a book. The couple in the foreground personify art lovers, and near the window, two lovers represent free love.
On the side of "everyday life", we find a priest, a merchant, a hunter who somewhat resembles Napoleon III, and even an unemployed worker and a beggar girl symbolising poverty. We can also see the guitar, the dagger and the hat, which, together with the male model, condemn traditional academic art.
In this vast allegory, truly a manifesto painting, each figure has a different meaning. And in the middle of all this stands Courbet himself, flanked by benevolent figures: a female muse, naked like the Truth, a child and a cat. In the centre, the painter presents himself as a mediator. Courbet thus affirms the artist's role in society in an enormous scene on the scale of a history painting. When faced with the rejection of his painting, intended for the 1855 Universal Exhibition, Courbet built a "Pavilion of Realism" at his own expense. Here, outside the official event, he organised his own exhibition, which also includedA Burial at Ornans, so that his work could be available to the whole of society.
Rez-de-chaussée, Salle 7
Resume
Artist(s)
auteur
Ornans, Doubs (25) (France) 1819 - La Tour-de-Peilz (Suisse) 1877
Title(s)
L'Atelier du peintre, allégorie réelle déterminant une phase de sept années de ma vie artistique
Others accession number
Accession number
Description
huile sur toile
Dimensions
H. 361 ; L. 598 cm.
avec cadre H. 417 ; L. 654 cm
Object details
Inscription(s)
S.D.b.g. : 55 G. Courbet
Place of conservation
musée d'Orsay
History - Provenance
jusqu'en 1881, dans la collection Juliette Courbet, soeur de l'artiste

1881, Vente de l'atelier de l'artiste, Paris, Hôtel Drouot, 9 décembre 1881, n°8

jusqu'en 1897, Galerie Haro, acquis lors de la précédente pour 21 000 fr.

1897, Vente Haro, Paris, galerie Haro, 2 avril 1897, n°108

de 1897 à 1899, dans la collection Victor Desfossès (acquis à la vente Haro)

1899, Vente posthume Victor Desfossés, Paris, organisme inconnu, 26 avril 1899, n°6

de 1899 à 1919, dans la collection Mme Victor Desfossés (rachat à la vente posthume de son mari ; sert de toile de fond dans le théâtre d'amateurs de l'Hôtel Desfossés, 6 rue Galilée, Paris)

de 1919 à 1920, galerie Barbazanges

1920, acquis par les Musées nationaux pour le musée du Louvre, avec l'aide d'une souscription publique et de la Société des Amis du Louvre

1920, attribué au musée du Louvre, Paris

de 1920 à 1986, musée du Louvre, Paris

1986, affecté au musée d'Orsay, Paris
Modality of acquisition
achat avec participation
Exhibition History
Courbet - Exposition Universelle, pavillon du Réalisme - France, Paris, 1855

Exposition de L'Atelier - ville - France, Lyon, 1864

Exposition Universelle : Welt-Ausstellung 1873 in Wien - organisme inconnu - Autriche, Vienne, 1873

Cinquantenaire des Amis du Louvre - musée de l'Orangerie - France, Paris, 1947

Gustave Courbet : 1819-1877 - Galeries nationales du Grand Palais - 1977 - 1978

Correspondances - Tony Oursler / Gustave Courbet - musée d'Orsay, Paris - France, Paris, 2004 - 2005

Courbet - Galeries nationales du Grand Palais - France, Paris, 2007 - 2008
Bibliography
Huyghe, René ; Bazin, Germain ; Adhémar, Hélène, Courbet, l'Atelier du peintre : allégorie réelle, 1855, Paris, Plon, 1944

Fernier, Robert, La Vie et l'oeuvre de Gustave Courbet, catalogue raisonné, Paris, la Bibliothèque des Arts, 1978, n°165

Toussaint, Hélène, Gustave Courbet (1819-1877), 'Le Dossier de "L'Atelier"de Courbet" : [exposition, Paris], Grand Palais, 30 septembre 1977-2 janvier 1978, [Londres, Royal academy, 18 janvier-19 mars 1978], Paris, Réunion des musées nationaux, 1977

Rubin, James H., Realism and Social Vision in Courbet and Proudhon, Princeton Essays on the Art, 1981

Compin, Isabelle ; Roquebert, Anne, Catalogue sommaire illustré des peintures du Musée du Louvre et du Musée d'Orsay, Paris, Réunion des musées nationaux, 1986, vol.3, p.164

Nochlin, Linda, Courbet Reconsidered, 'Courbet's Real Allegory : Regarding the Painter's Studio" : [exhibition, the Brooklyn museum, November 4, 1988-January 16, 1989, Minneapolis institute of arts, February 18-April 30, 1989], New York, The Brooklyn Museum, 1988, p.17-41

Compin, Isabelle [coordination] ; Lacambre, Geneviève [coordination] ; Roquebert, Anne, Musée d'Orsay. Catalogue sommaire illustré des peintures, Paris, Réunion des musées nationaux, 1990, vol.1, p.128-129

Herding, Klaus, Courbet : To Venture Independance, "The Painter's Studio : Focus on World Events, Site of Reconciliation", New Haven, Yale University Press, 1991, p. 45-61

Rubin, James H., Courbet : Art and Ideas, Phaidon, 1997

Thomas-Maurin, Frédérique, Courbet, Clésinger, oeuvres croisées, Besançon, Editions du Sekoya, 2011, p.117

Bowness, Alan, Courbet's Atelier du peintre, Newcastle, Newcastle-upon-Tyne University, 1972

Nicolson, Benedict, Courbet. The Studio of a Painter, Londres, Allen Lane, 1973
Suggestion
Do you have a question where you have additional knowledge about this work? You can write to us to suggest improvements to the file.
Make a suggestion