Le Canal du Loing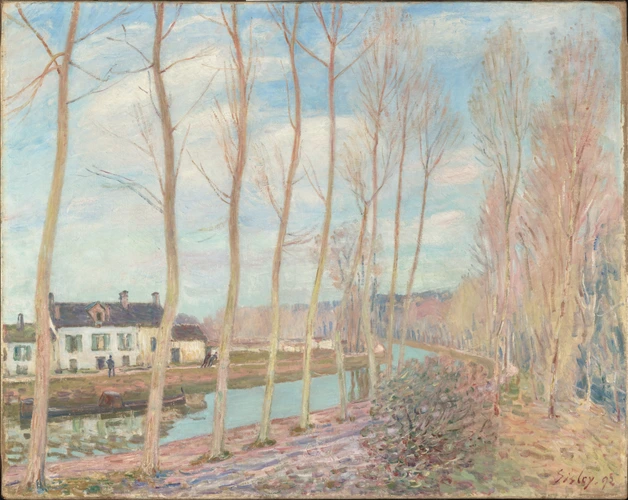 Alfred Sisley (1839 - 1899)
In 1880, there was a sudden change in Sisley's life and in his work. The painter abandoned Seine-et-Oise, where he had lived and worked since 1871, to move to Seine-et-Marne, where he was to live until his death in 1899. He settled finally in Moret-sur-Loing in September 1882, presumably attracted by the picturesque nature of this small town, and by its excellent location on the banks of the Loing.
During the last twenty years of his life, Sisley often painted along this river or on the banks of the Seine in the neighbouring town of Saint-Mammès. It is here that the Loing and the Seine meet. Sisley also left numerous views of the canal which follows the course of the Loing for about fifty kilometres
Here, the artist presents an original layout. He positioned himself at a point where the canal starts to curve round, where he could see the opposite bank through a screen of poplar trees with bare trunks. This way of tackling the motif echoes the perspective effects from the past where winding roads disappeared into the distance.
The sky occupies a large part of the painting. Indeed, in the same year he finished his painting, Sisley explained his art to the critic Tavernier in these words: "the sky cannot only be a background [...] I emphasise this part of the landscape because I would like to make you understand the importance I attach to it, [...] I always begin by painting the sky."
Artwork not currently exhibited in the museum