Le Chevalier aux fleurs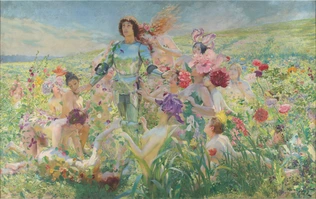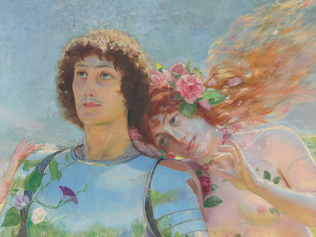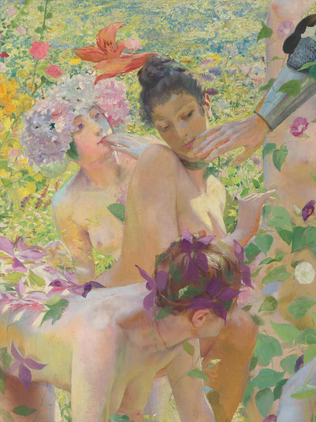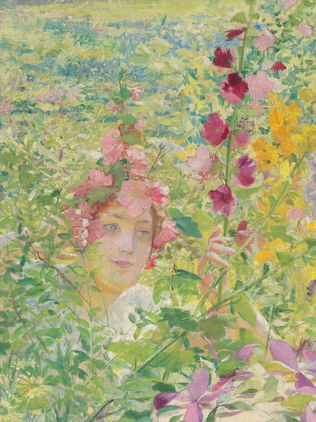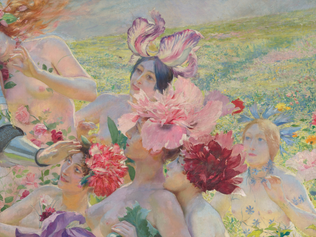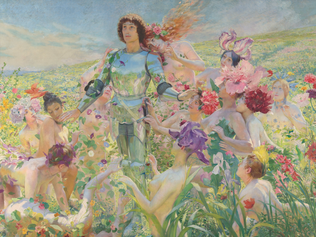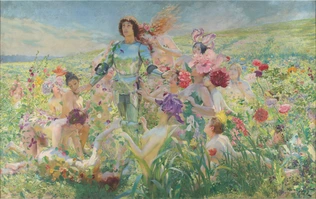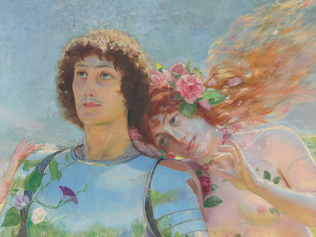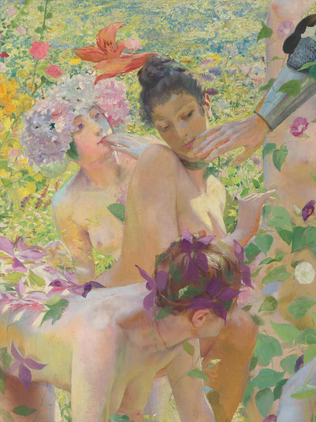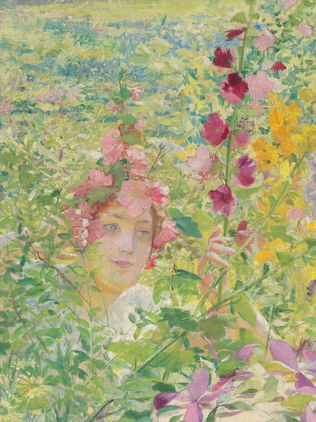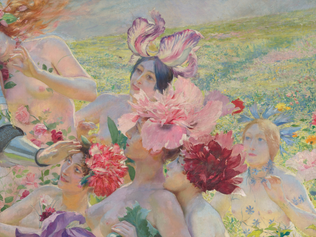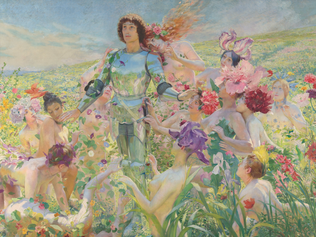 Georges Rochegrosse (1859 - 1938)
From the moment they were created, the operas of Richard Wagner aroused great admiration, particularly from the artists of the Symbolist generation who took many of his subjects as inspiration for their paintings. Thirsting after an ideal, they were overwhelmed by the power of this musician who brought the great myths and old legends back to life. When Rochegrosse painted The Knight of the Flowers he was pursuing his ambition to move closer to the refined and elitist aesthetic of the Symbolists, and to take advantage of the huge popularity of the English Pre-Raphaelites at that time. In 1894, the year when the The Knight was exhibited at the Salon, he also designed, with Francis Auburtin, the sets for the play The Sleeping Beauty, presented at the Théâtre de l'Oeuvre, with costumes by Edward Burne-Jones. So it is not surprising to see him take his inspiration from Parsifal (1882) for this painting.
Rochegrosse depicts the moment when Parsifal, the chaste hero destined to find the Holy Grail, has just struck down the guardians of the castle of the magician Klingsor. He moves away into the enchanted garden, deaf to the calls of the flower maidens, femmes fatales scantily clad in narcissi, peonies, roses, irises, tulips, violets and hydrangeas.
Compared to the majority of Wagnerian paintings that are often rather dark and tragic, this view is quite unexpected. Perhaps fearing criticism, Rochegrosse explained in the Journal des Débats of 2 June 1894 that he had intentionally distanced himself from the opera libretto in order to represent "the central idea of the scene": this human being who was immune to temptation because he was "obsessed with the ideal". Eventually he received critical acclaim, and the State bought the work for the Musée du Luxembourg. Rochegrosse had adapted his work perfectly to the tastes of the time by painting a picture that looked modern: he tackled a Symbolist subject in a Realist style, adding a touch of Impressionism in his treatment of the landscape and vegetation. Moreover, the very graphic interpretation of temptation gives the whole image a carnal dimension that the public could not have failed to notice.