Les Alyscamps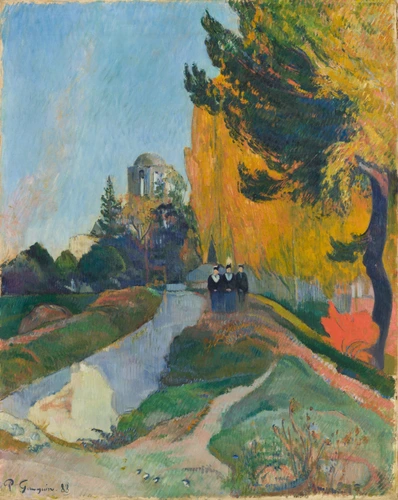 Paul Gauguin (1848 - 1903)
Niveau supérieur, Salle 38
In October 1888, Gauguin arrived in Arles where his friend Vincent Van Gogh had invited him to come and work. The two artists had been writing to each other for several months, recording progress on their attempts to produce a non-naturalist landscape.
This painting with its flaming autumnal colours is probably one of the first canvases Gauguin made in Arles. It shows the Roman necropolis in Arles which was consecrated in the 3rd century by Saint Trophime, the first bishop of Arles, as a burial ground for Christians. In the 19th century nothing remained of the site but the avenues of cypresses and a few empty sarcophagi, which gave it a profoundly melancholic air.
Gauguin excluded historical references almost entirely, leaving only the domed tower and part of the building of the Romanesque church of St Honorat built on the site, in the background. No sarcophagi are in sight, only the fields, woods and a canal along which three people are walking, two women dressed as Arlesiennes and a man. Gauguin, who did not find the Arlesiennes particularly attractive, ironically dubbed his painting Landscape or Three Graces with the Temple of Venus when he sent it his art dealer, Vincent's brother, Theo Van Gogh.
With its juxtaposed masses and hatching, this painting is characteristic of Gauguin's Synthetism. The brushstrokes, copied from Cézanne, allowed him to transcribe the motif without imitating the real world. The highly saturated hues are also a subjective and decorative interpretation of the landscape. This serene view of Les Alyscamps contrasts with the tormented contemporary compositions that Van Gogh painted of the place.