Les Quatre Parties du monde soutenant la sphère céleste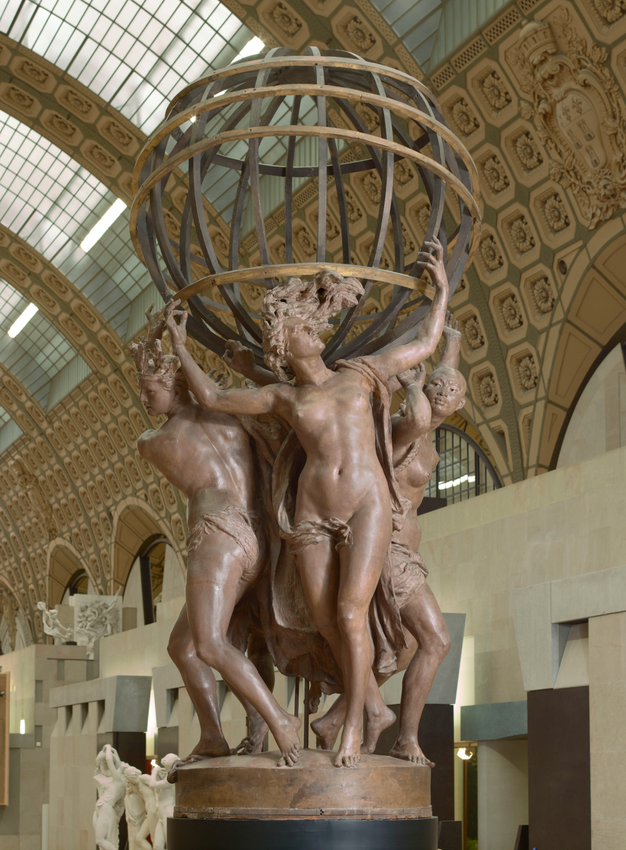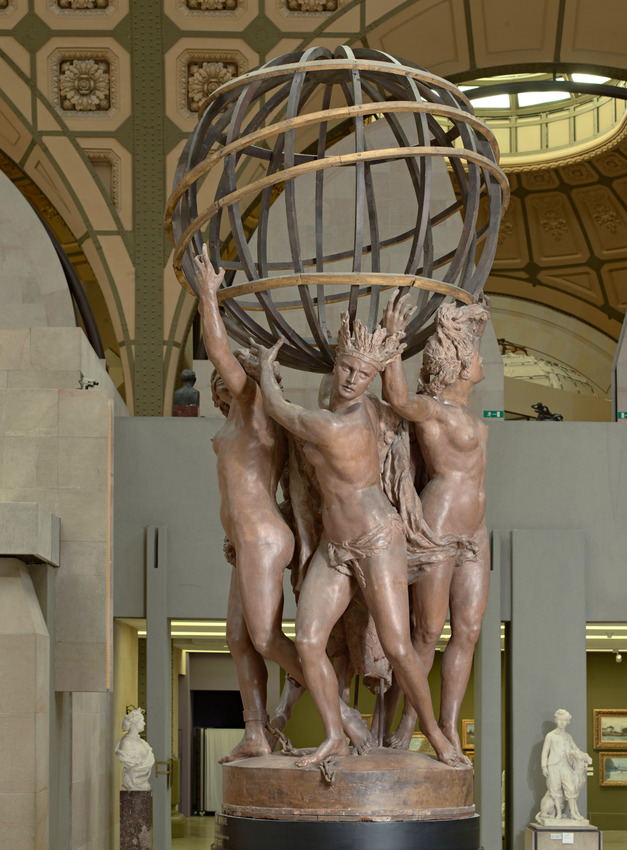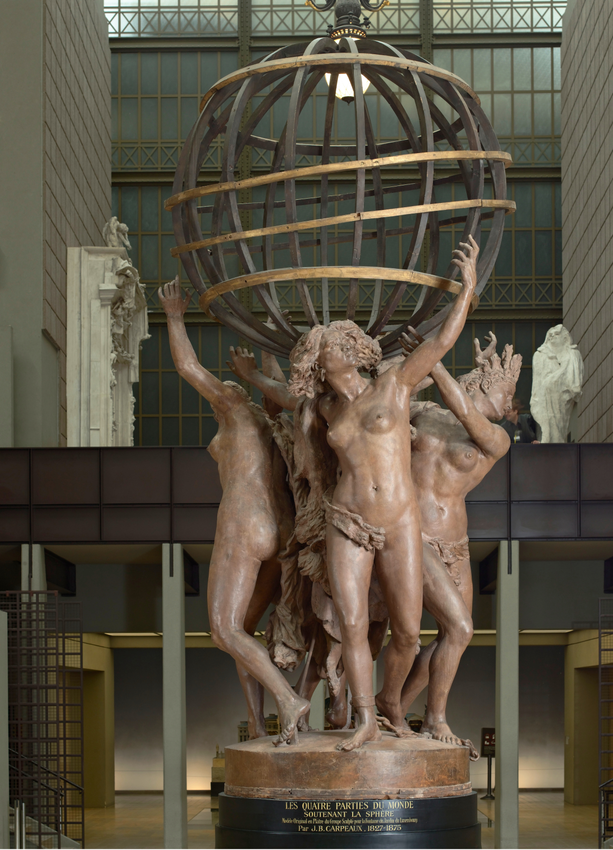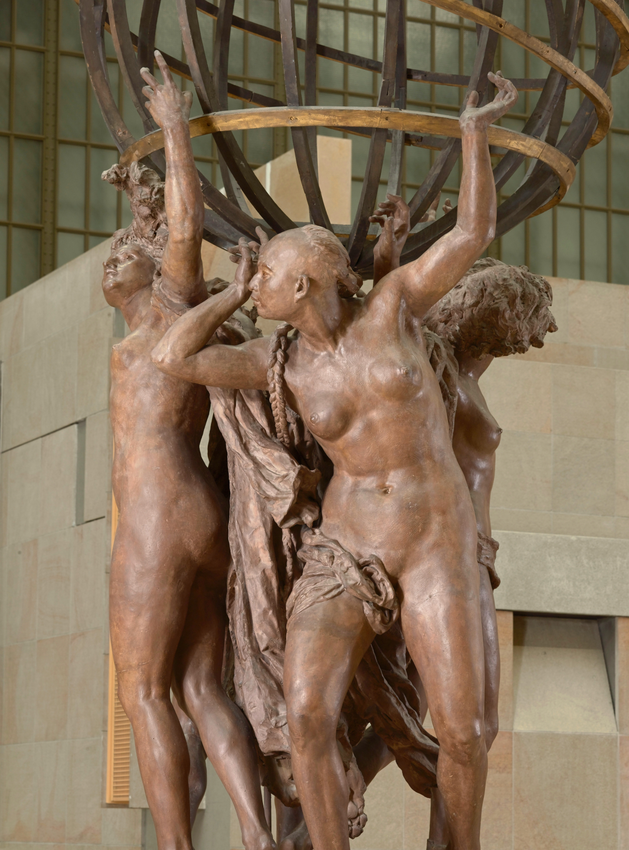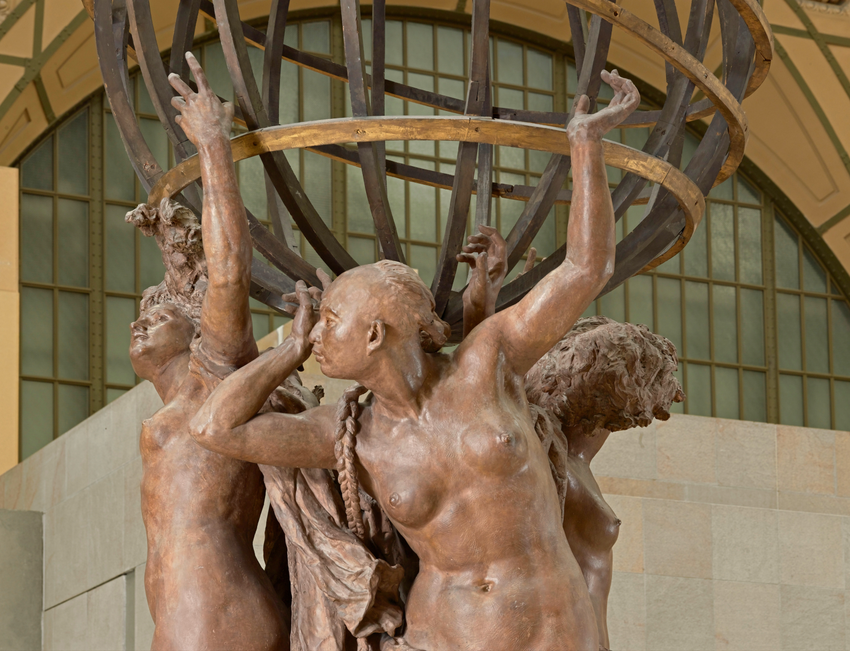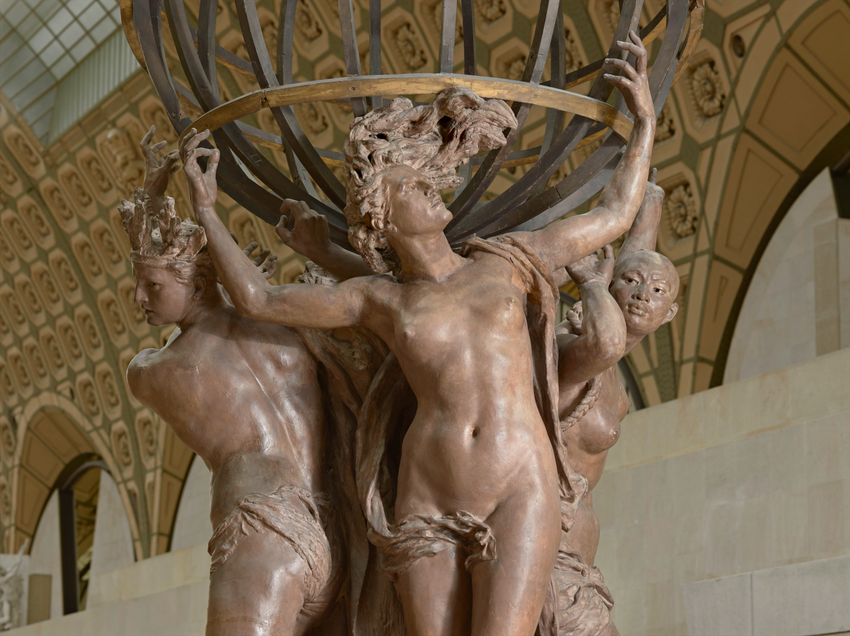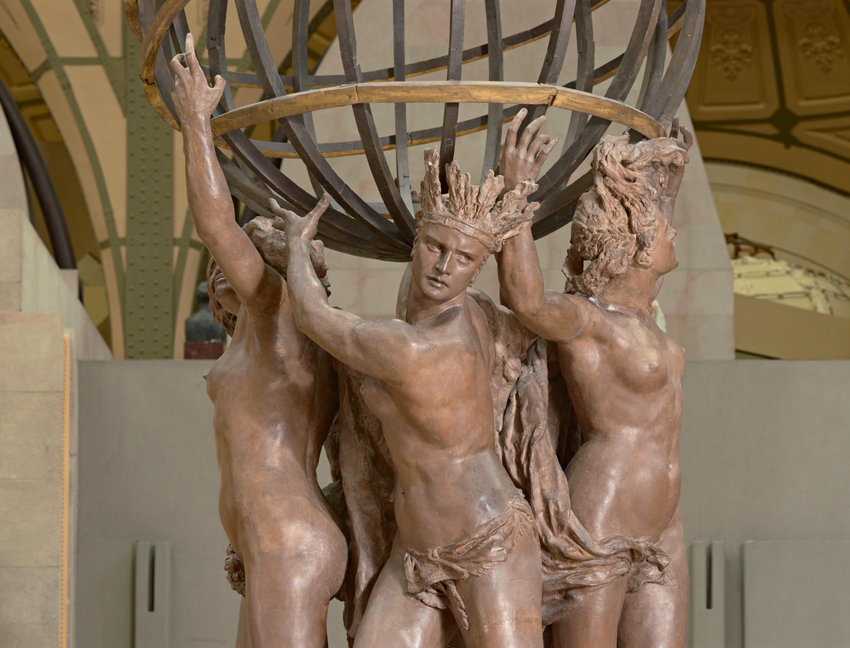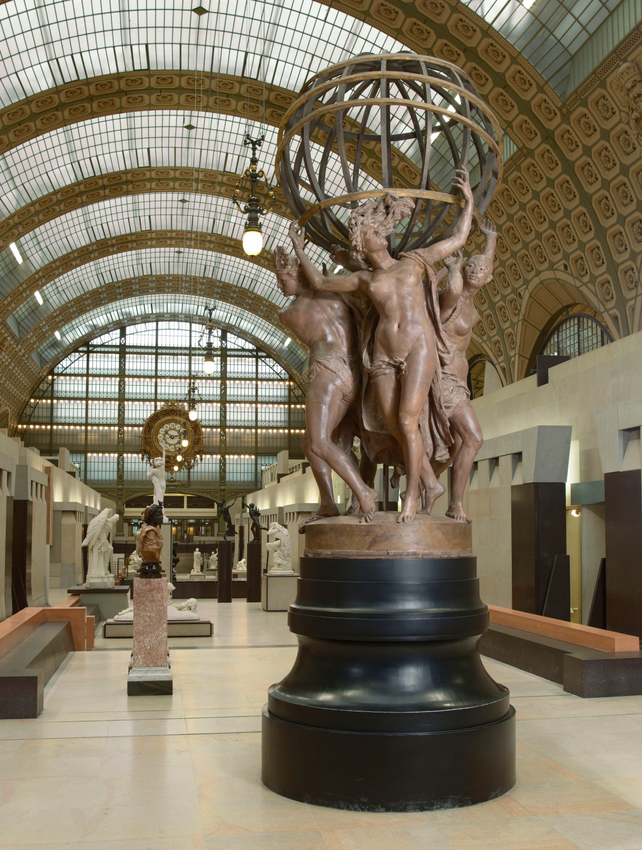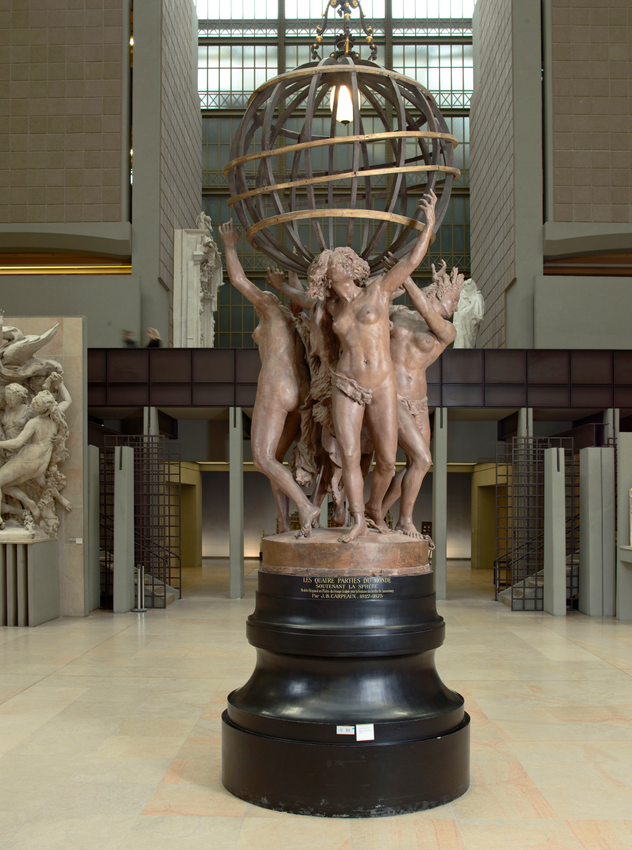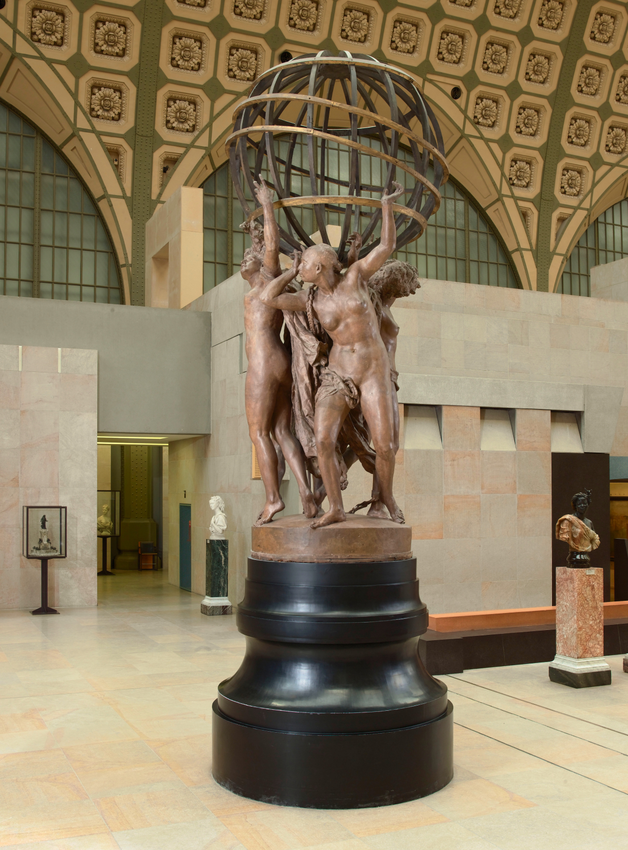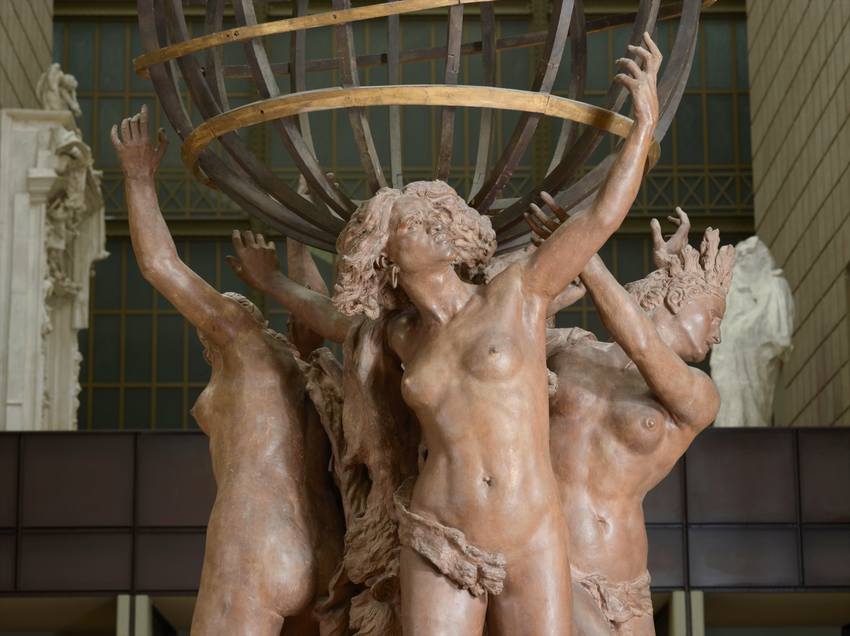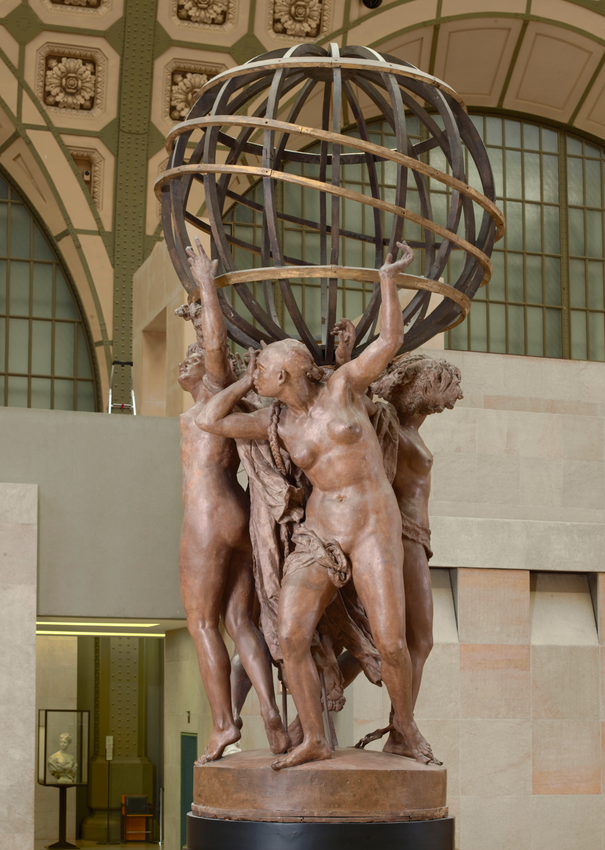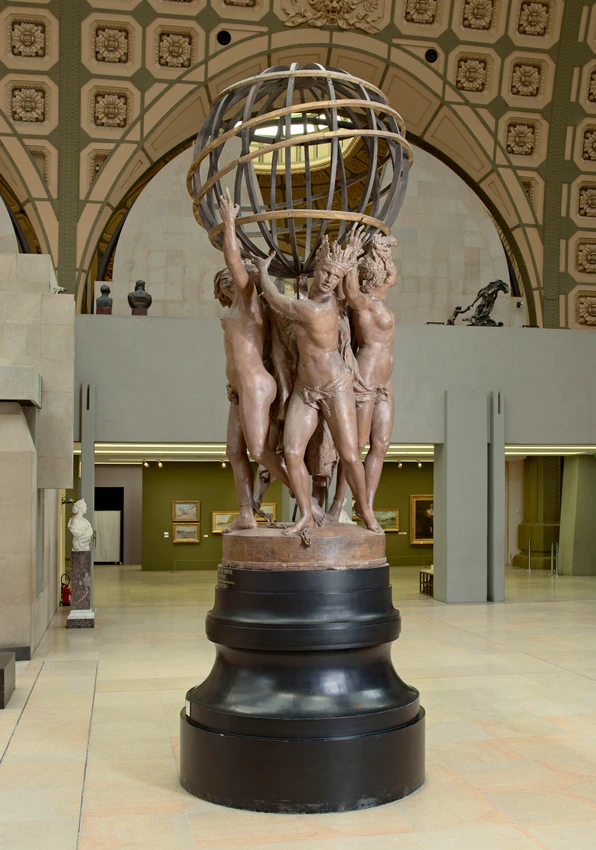 Jean-Baptiste Carpeaux (1827 - 1875)
Rez-de-chaussée, Allée centrale des sculptures
Rez-de-chaussée
Baron Haussmann, the prefect of Paris who gave the city the face we know today, commissioned Carpeaux to design a fountain for the Observatoire Garden in 1867. The sculptor chose the theme of the four parts of the world turning around the celestial sphere.
Not only are the four allegories dancing in a ring, but they are also revolving on the spot. Europe scarcely touches the ground, Asia, with her long pigtail, is seen almost from the back, Africa is in a three-quarter view and America, wearing a feather headdress, is facing the spectator but her body is turned to the side.
This taste for movement is one of the features of Carpeaux's art. His passionate nature was quite the contrary of Neoclassic serenity. It was not until 1874, a year before Carpeaux died, that the bronze fountain was set up on the designated site.
The tangle of legs displeased the public of the time. Two of the busts exist as separate works. Carpeaux turned the Chinese woman into a man and reproduced the statue in several different materials. The figure of Africa gave rise to a bust that Carpeaux exhibited with the inscription Why be born a slave? This reference to the abolition of slavery is also visible in the statue: America is standing on the broken chain of slavery wrapped around Africa's ankle.
Resume
Artist(s)
auteur
Valenciennes, Nord (59) (France) 1827 - Courbevoie, Hauts-de-Seine (92) (France) 1875
Title(s)
titre principal : Les Quatre Parties du monde soutenant la sphère céleste
titre principal : Les Quatre Parties du monde soutenant la sphère céleste
Date
1872 [La statue en bronze a été commandée 25 000 F par la ville de Paris en 1867.]
Others accession number
Accession number
Description
modèle en plâtre gomme-laqué
Dimensions
H. 280,0 ; L. 177,0 ; P. 145,0 cm.
Object details
Place of conservation
musée d'Orsay
History - Provenance
jusqu'en 1875, dans la collection Jean-Baptiste Carpeaux

de 1875 à 1889, dans la collection Amélie Carpeaux, Jean-Baptiste (Mme), épouse de l'artiste

1889, acquis de la veuve du sculpteur par les Musées nationaux (comité du 09/11/1889, arrêté du 14/01/1890 ; RF 817 à RF 821 acquis pour 17 000 F)

attribué au musée du Louvre

1986, affecté au musée d'Orsay
Modality of acquisition
achat
Exhibitions
Salon - palais des Champs Elysées - France, Paris, 1872, n° 1586

Exposition Universelle - Champ-de-Mars - France, Paris, 1889, Centennale, n° 31

Carpeaux (1827-1875), un sculpteur pour l'Empire - musée d'Orsay - France, Paris, 2014, n°103
Sources
General bibliography
Chesneau, Ernest, Le Statuaire J.-B. Carpeaux, sa vie, son oeuvre, A. Quantin, 1880, p. 122-126

Wagner, Anne Middleton, Jean-Baptiste Carpeaux, Sculptor of the Second Empire, New Haven, Yale University Press, 1986, p.262-270

Zola, E., Ecrits sur l'art, Paris, Gallimard, 1991, p.256

Fromentin, Edouard-Désiré, Valentiana, "Jean-Baptiste Carpeaux : essai biographique", Valenciennes, [s.n.], 1997, p.172-173

Poletti, Michel, Jean-Baptiste Carpeaux : l'homme qui faisait danser les pierres, Gourcuff Gradenigo, 2012, p.158-162

Singaravélou, Pierre, Les Mondes d'Orsay, Paris, Musée d'Orsay - Editions du Seuil, 2021, p.64-65
Summary catalog
Pingeot, Anne ; Le Normand-Romain, Antoinette ; Margerie, Laure de, Musée d'Orsay. Catalogue sommaire illustré des sculptures, Paris, Réunion des musées nationaux, 1986, p.70
Suggestion
Do you have a question where you have additional knowledge about this work? You can write to us to suggest improvements to the file.
Make a suggestion