L'Orchestre de l'Opéra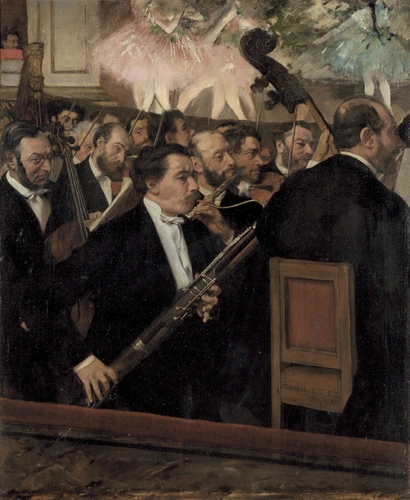 Edgar Degas (1834 - 1917)
Artwork not currently exhibited in the museum
With great subtlety, Degas has obscured what is usually shown in a theatre and focused on the area reserved for the audience, particularly the orchestra pit. The space is divided into three zones. At the bottom is the public part of the theatre, the area allocated to the audience of the painting as well as the performance. In the centre is the pit where the musicians sit. At the top is the stage, edged by the footlights and filled with headless ballerinas.
An X-ray shows that Degas deliberately cut the canvas at the sides and top. The framing is therefore more radical than he originally intended. The harp, the box and the double bass were added later, linking the pit graphically to the stage.
The areas reserved for the audience and the performers are incomplete. The subject here is the pit, which is usually out of sight, although it had already been represented by Doré and Daumier. Degas knew the musicians personally. The composer Emmanuel Chabrier can be seen in the box and Désiré Dihau, one of Degas' friends who played at the Paris Opera, is the bassoonist. Degas juggled with the traditional arrangement of the orchestra to place him in the centre of the composition.
The contrast between the pit and the stage is reinforced by the difference in the treatment of the three zones: studied, precise and detailed, the central area of the pit is a veritable group portrait and accurately depicts the musicians and their instruments. The dancers on the other hand are scarcely sketched in. And yet the orchestra series painted between 1869 and 1876 illustrates the theme of the dance, which was so important in Degas's oeuvre. The subject gradually invaded his work.