Nuit d'été à Aagaardstrand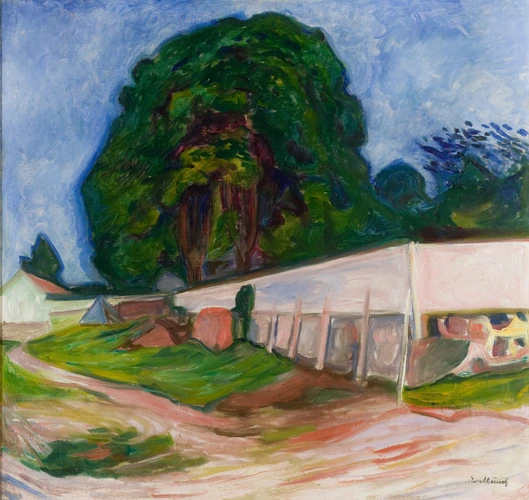 Edvard Munch (1863 - 1944)
At the beginning of the 20th century, although still a subject of controversy in Norway, Munch established an international reputation. He was favourably received in a number of exhibitions: in Berlin at the 1902 Secession, in Prague as part of the Manes Association of Fine Artists in 1905 and in Paris, where his work was presented at the Salon des Indépendants between 1902 and 1904. In fact Munch presented Summer Night in Aagaardstrand at the 1904 Salon des Indépendants, as one of several views of this small village situated on the edge of the Oslo fjord – a place he had visited regularly since 1888. The motif of this painting can be found in several of his earlier paintings (Girls on a Bridge, 1899-1901, Moscow, Pushkin Museum, and Women on the Bridge, 1902, Bergen, Billedgalleri). It is therefore a subject the artist has taken many times before, but here he uses it to reveal the full extent of his stylistic development, and to express his new preoccupations about form, construction and colour.
Elements of the landscape - trees, wall, house - are highly stylised and sometimes outlined with thick lines of colour; a long diagonal cuts across the canvas creating a tension in the pictorial space and giving depth to the composition. No figure or anecdotal element intrudes to spoil the rigorous construction of this landscape, permeated by the bluish light that is so characteristic of Nordic summer nights. There is a disquieting intensity about the atmosphere, expressed in a variety of energetic, rapid brushstrokes, invigorated with violently clashing colours achieved through a contrast of warm and cool shades.
Munch's work attracted the attention of the future Fauves, Matisse, Derain, Marquet, Dufy and Friesz, who admired the "wild precision and spiritual colour" of this artist, who prefigured the chromatic experiments led by the Fauves.
Artwork not currently exhibited in the museum