Paul Leclercq (1872-1956)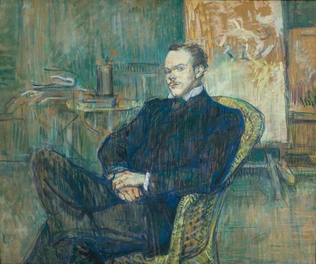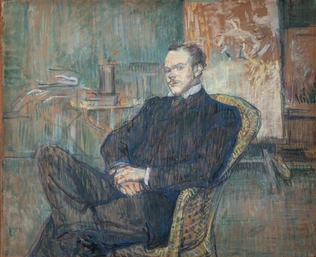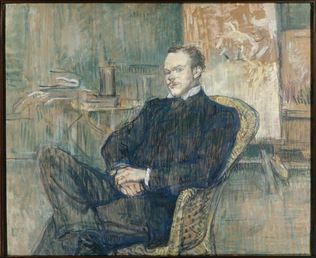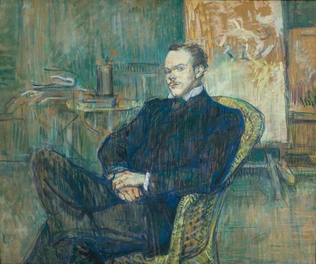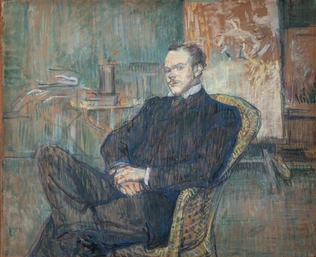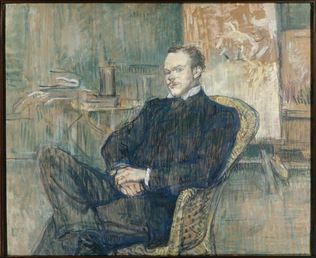 Henri de Toulouse-Lautrec (1864 - 1901)
In 1897, Lautrec decided to paint the portrait of Paul Leclercq (1872-1856), a young writer who was one of the founders of La Revue Blanche. For a month, Leclercq came to the painter's Paris studio in avenue Frochot. He himself recounted what would happen at these meetings: "As soon as I arrived, he would ask me to sit in a large wicker armchair. [...] Then he would stare intently at me through his spectacles, screw up his eyes, reach for a paintbrush and, after studying carefully what he had been looking at, place a few strokes of rather liquid paint on his canvas. And then he would put down his brush, and announce peremptorily: "Enough work. The weather is too good!" and off we would go for a walk around the quartier."
It must be said that, unlike Cézanne, who required his models to hold their pose for prolonged periods, Lautrec preferred to see a more animated subject. In this way he produced a very eloquent portrait of Leclercq.
The writer seems perfectly at ease in the setting of the studio. But his querying look shows that he was concerned about the effect that he wished to convey to the artist. One can also see that he is interested in Lautrec's method of working. The undeniable presence of the model in this exceptional portrait is proof of the successful dialogue between the two men.
Niveau supérieur, Galerie Françoise Cachin