Paysage fantastique, tours et flèches enveloppées de nuages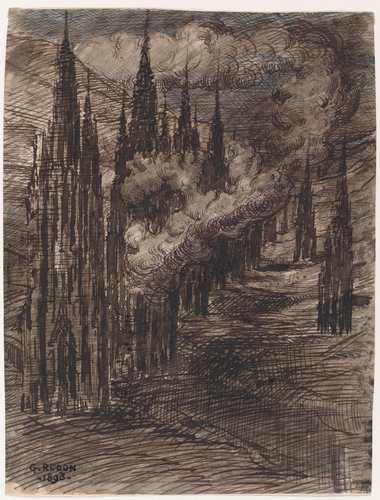 Gaston Redon (1853 - 1921)
Artwork not currently exhibited in the museum
The brother of Odilon Redon, and the winner of the Grand Prix de Rome in 1883, Gaston Redon built very little and became the architect of the Louvre and the Tuileries. When their father's death left the family in dire straits, Gaston Redon shouldered the heavy responsibility that neither of his brothers, Ernest, a gifted musician and Odilon a painter, was able to take. The beloved family estate of Peyrelebade, not far from Bordeaux, where he had spent his childhood and youth, had to be sold: "He was tormented by it, and his imagination was filled with gloomy ideas; he spent his evenings drawing compositions steeped in sadness, in which highly romantic fantasies mingle with a taste for death."
His drawings express his quest for the infinite and the definitive absolute of death. He barred the white paper with great strokes of his pen conjuring up steep rocky landscapes, twisting paths winding up inaccessible mountains, monumental skulls, immense temples looming out of the mist, spheres and stars shining in the darkest firmaments, stark, gnarled trees...
Even if his position improved when he was appointed architect for the Louvre, Gaston Redon was plagued by deeply melancholic thoughts: "Returning to work in the winter is always terrible and this time it will not be gay for me; I can tell because my mania for spending my evenings staring at my consolatory death's head has started again. This lump of bone does me good service. It reminds me that we will all die. And, on the other hand, I try not to die altogether." Life often seemed insurmountable and his artistic world is full of anguish; the mood of his drawings is not unlike that of Odilon's charcoal drawings and lithographs or the visionary, poetic world of Victor Hugo.