Portrait de l'artiste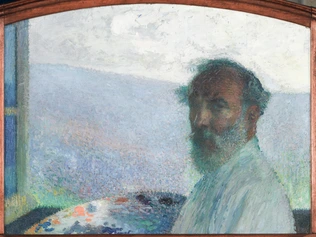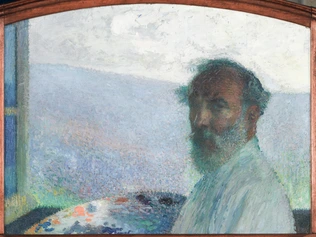 Henri Martin (1860 - 1943)
In this self-portrait dated just after 1910, Henri Martin makes reference to both the new techniques introduced by the Neo-Impressionists and to the grand pictorial tradition. Thus, there are many borrowings from a re-reading of the past, starting with the arched shape of the painting. This recalls basket-handle arches typical of the Middle Ages.
The palette the artist is holding clearly has an expressive role, symbolising his profession. Martin explicitly quotes primitive painting. Finally, it follows in a long tradition of interior portraits.
On the other hand, the technique of this painting links this work with Neo-Impressionism. By adopting the division of colours, Martin tries to capture the vibrating light of the south of France. He uses dots and stripes of colour, placed close together on an already thick layer, recalling a technique much favoured by Albert Dubois-Pillet, one of the founders of the movement.
Applied to a rigorous but fluid drawing style and to a skilful but seemingly quite natural composition, this technique which surprised in 1884 and shocked in 1886, in 1912 found itself, in this painting, harmoniously integrated into the great French pictorial tradition.
Artwork not currently exhibited in the museum