Portrait de Mademoiselle L.L.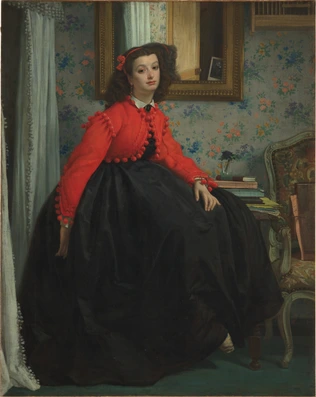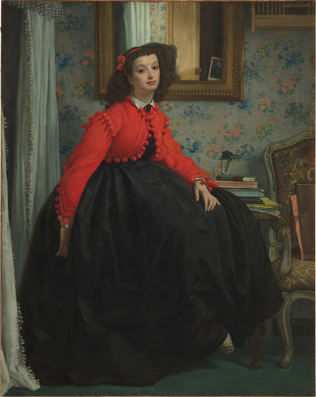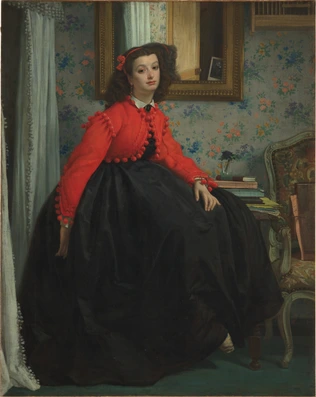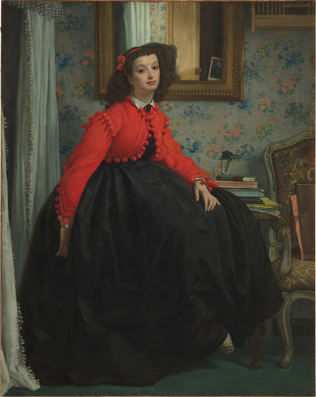 James Tissot (1836 - 1902)
Rez-de-chaussée, Galerie Seine
From 1859 onwards, James Tissot exhibited works inspired by history and mediaeval literature at the Salon, with some success. In 1861 he won official recognition with the State's purchase of The Meeting of Faust and Marguerite, also in the Musee d'Orsay. In 1864, however, Tissot abandoned this vein to "enter our century" as Théophile Gautier remarked in his commentary on the exhibition. He exhibited two portraits: The Two Sisters, also in the Musee d'Orsay, and this Portrait of Miss L. L., the model for which has not yet been identified.
The huge success of the canvas is due to its original and rather mysterious composition (What is the young woman sitting on and who is she to allow herself to be painted this way?), as well as to the astonishing colour scheme, a bright red jacket borrowed from a zouave's costume and the dull green surroundings. Although nowadays people see Ingres's influence in the pose, particularly in the nonchalant right arm dangling over the black satin skirt or in the reflection in the mirror which brings to mind the portrait of Madame de Senonnes or that of Madame Moitessier, contemporary critics saw other derivations for this friend of Manet and Degas. Jules Castagnary, a strong proponent of realism, wrote in Le Grand Journal on 12 June 1864: "Mr Tissot, the crazy primitive of the most recent Salons has suddenly changed his manner and moved closer to Mr Courbet, a good mark for Mr. Tissot".