Réception du Grand Condé par Louis XIV (Versailles, 1674)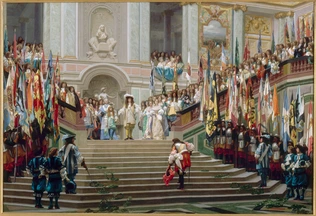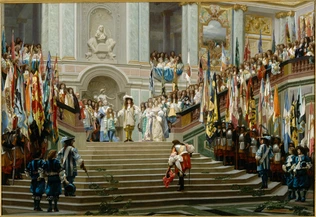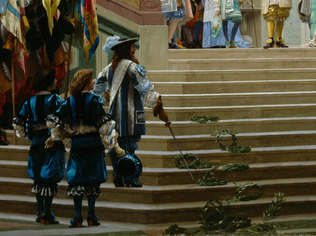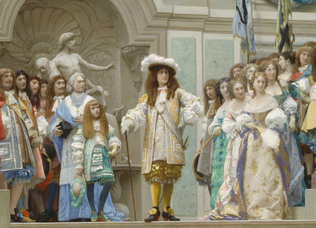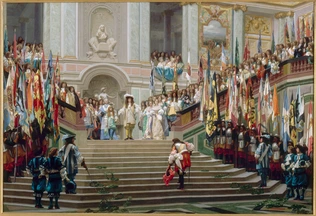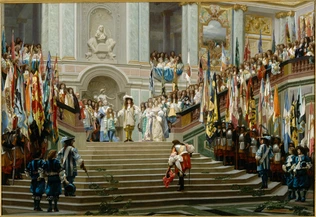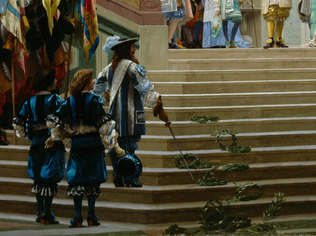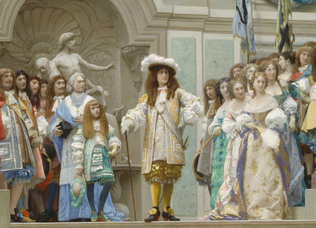 Jean-Léon Gérôme (1824 - 1904)
Rez-de-chaussée, galerie Lille 2
The year is 1674, and on the great Escalier des Ambassadeurs, in Versailles, Louis XIV is welcoming the Grand Condé, who has just defeated William of Orange in the battle of Seneffe. This event marked the end of almost fifteen years of exile for the Grand Condé, which had been designed by the king to punish "his cousin" for leading the Fronde against the monarchy.
Gérôme concentrated all his passion for historical reconstruction into this modest-sized painting, making use of different iconographic sources to lend the scene more credibility such as engravings of the Château de Versailles and portraits of the various persons represented.The composition is made dynamic by the high-angle view and the off-centring of the large compositional X structure. Gérôme employed a delicate palette in which the overall sense of clarity and the cool tones of the marble are invigorated by the colours of the costumes and flags.
In making this painting, Gérôme was hoping to find a buyer in the Duke of Aumale who was about to move into the Château de Chantilly, the Condés' former property. However, the transaction failed and the painting was sold to the American millionaire William Henry Vanderbilt instead. From 1886 to 1903 it was loaned to the Metropolitan Museum in New York, while the work became widely known in France through multiple engravings. After the second world war, it fell into relative obscurity.