Vue de toits (Effet de neige)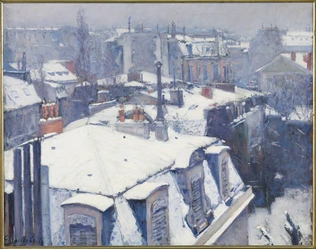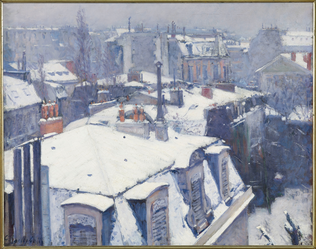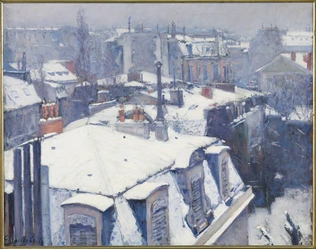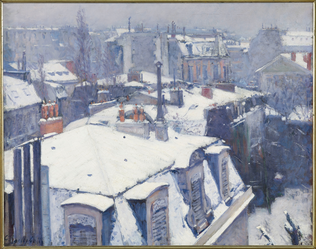 Gustave Caillebotte (1848 - 1894)
At the fourth Impressionist Exhibition in 1879, Caillebotte presented over twenty-five works. These included two roofscapes of which this is one. The large number of paintings he submitted is a measure of Caillebotte's enthusiasm. He had joined the ranks of the Impressionists in 1876, and became one of the most active members of the group, not only as a painter but also as a patron, thanks to his considerable personal fortune.
Unlike his scenes of boating enthusiasts and portraits, also exhibited in 1879, his roofscapes provoked little comment at the time. However, they form an important link in the series of urban paintings for which Caillebotte is so popular today. In each of these paintings, whether street scenes of Haussmann's Paris or plunging perspectives painted from his balcony, he invites us to share his unusual view over the city. Besides, his Roofscape had few direct precedents other than in photography, although it is not certain that this was a source for the painter.
This painting, an eminently "modern" urban landscape, wonderfully describes the atmosphere of a winter's day in Paris. The heavy sky bathes the snow-covered roofs in grey, brightened with a few notes of soft pink. By thus turning his attention to the effect of the seasons on light and landscape, Caillebotte joined his Impressionist friends Monet, Sisley and Pissarro.
Given to the French National Museum by the artist's brother at the same time as the famous Floor Planers, Roofscape is one of the rare paintings by Caillebotte known to the public for a long time, the main part of his oeuvre having stayed in his family for several decades.
Niveau supérieur, Salle 31