An old woman perched on a broom, dressed in a great cloak that flutters in the wind, equipped with an owl and a book of spells with pages covered with mysterious symbols – Émile Hébert has brought together in this work all the attributes of the traditional witch of tales and legends.
The artist has introduced an original element, rare in sculpture: the landscapes over which the witch flies, represented on the rounded surface of the base, which can evoke a portion of the globe. One makes out a Germanic-looking village on the main face, and two secondary scenes, less obvious to identify - perhaps a camp of tents set against a mountain background, and geometric shapes resembling the pyramids of Egypt seen from the sky.
Trained by his father and by the Romantic sculptor Jean-Jacques Feuchère, Hébert had an honorable, if not prominent, career. As far as critical reception is concerned, his main claim to fame is undoubtedly the passage that Baudelaire devotes, in his Salon of 1859, to the group Et Toujours ! Et Jamais ! [And Always! And Never!]", which depicts a naked young woman being embraced by a corpse who pulls her toward the open grave beneath them.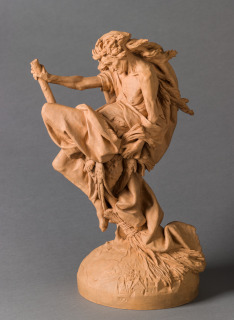 Hébert is also the sculptor of a Mephistopheles (plaster cast at the 1853 Salon) inspired by first Faust by Goethe (1808), popularized in France in the 1820s by several translations, adaptations, and illustrated publications. It is likely that the iconography of the Witch also finds its source in Faust, and in particular in the famous Walpurgis Night scene, which sees the witches gather on Mount Brocken to celebrate the Sabbath.
This fantastic and neo-romantic vein is only one aspect of Émile Hébert's highly eclectic inspiration. Although he exhibited little at the Salon, this sculptor of very flexible talent, capable of adapting to a variety of styles, and yet on the other hand, produced a great deal for the flourishing publishing market of the second half of the 19th century.
Our Witch provides a fine testament to this, with its intricate composition and very fine detail, well rendered in this perfectly executed terra cotta print.