In this spare, even austere portrait, naturalist artist Jean-François Raffaëlli depicts novelist and art critic Joris-Karl Huysmans (1848-1907) in his apartment at 11 rue de Sèvres. It highlights the author's recent conversion to Catholicism and defense of religious art, as evidenced by the importance of the crucifix, the only ornament in this stripped-down atmosphere.
Should we see in the curtain panel a clearly affirmed setting, or an allusion to the first period of the writer, author of À Rebours [Against Nature] whose hero chose orange as the decadent color par excellence?
The writer owned works by Raffaëlli, which he lent out to exhibitions. He wrote glowing descriptions of Raffaëlli's work in the journal  L'Art moderne. For him, Raffaëlli was "a powerful artist", with a "bold" painting, "devoid of embellishment", in the tradition of the Le Nain brothers. On the occasion of the Independents' exhibition in 1881, he wrote "The execution is as always incisive and sober, like that of a tight drawing, endeavoring to make the silhouette of the bodies stand out, creating the impression almost without the help of color. [...] among the immense swarm of exhibitors of our time, Mr. Raffaëlli is one of the few who will remain. He will occupy a place apart in the art of the century, that of a sort of Parisian Millet [...]".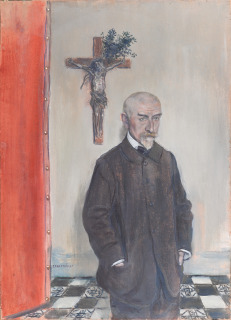 Huysmans and Raffaëlli belonged to the same artistic circles. They would meet at Edmond de Goncourt's house on boulevard Montmorency for Sunday meetings with Bracquemond, Carrière, Chéret, Daudet, Gavarni, Mallarmé, Mirbeau, Zola, et al. In 1889, Raffaëlli produced for Le Figaro an album on Les Types de Paris [Typical Parisians]. Among his writer friends who commented on his drawings, he chose Huysmans to write about "Les Habitués de café" [Café Regulars]
Raffaëlli was above all a landscape artist. He made a few portraits, however, including those of personalities of his circle. We know three of Huysmans: a watercolor portrait reproduced in L'Artiste of October 1893, a posthumous portrait for the frontispiece of the 1909 edition of Sœurs Vatard for which he did the illustrations, and this pastel portrait, whose composition is very close to a 1903 photograph by Dornac (1858-1941).
Thanks to the generosity of the Société des Amis des Musées d'Orsay et de l'Orangerie, this portrait is the first pastel by Raffaëlli to enter the Musée d'Orsay collections. It enters into dialogue with the pastel portrait of Huysmans by Forain, representing the writer in his thirties.