René Béclu was a sculptor who died prematurely at the age of 32 in the trenches of World War I. In Lyon, walkers in the Parc de la Tête d'Or can observe an imposing marble group, 'The Secret,' which the state purchased from him in 1913.
This mask takes its place among the countless representations of Victor Hugo, the great glory of France. In the field of sculpture, Rodin comes to mind, who created more than a hundred of them. Béclu, meanwhile, probably modeled his mask around the beginning of the 20thcentury, some fifteen years after the writer's death.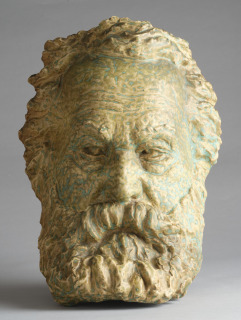 For its realization, he joined forces with the Émile Muller et Cie ceramics factory, which had been executing works by contemporary sculptors in enameled stoneware since the 1880s.
Although it measures only 14 ³⁄₁₆ in. (36 cm), this face exudes a certain monumentality that gives it a remarkable presence. The enamel is treated with a refinement and a form of "brutality" that immediately evokes the work of Jean Carriès (1855-1894). The colored mesh is a direct reference to the work of this ceramist.
The treatment of the enamel thus moves away from any realistic representation, while the face of the poet is marked by drama and tragedy. By veining the mask left beige with turquoise blue, thereby creating a striking face, Béclu created a work that borders on the disturbing.
.