Some Black Parisians. Glenn Ligon
From March 26th to July 21st, 2019 -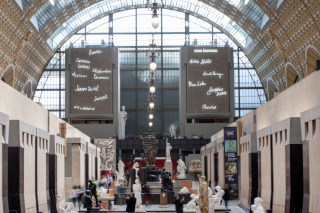 The artwork Some Black Parisians consists of 12 large scale neons which highlight the names of some of the models, performers and writers who appear in important French works of art from the 19th and early 20th centuries.
While some of these figures are well known to the general public (Josephine Baker and Alexandre Dumas père, for example) some, such as Laure, who posed as a maid for Édouard Manet's painting Olympia, remain relatively obscure. Although a central figure in one of Manet's most important works, as of yet Laure's surname is unknown, and her presence is often barely acknowledged in the extensive scholarship on the work.
This "highly visible invisibility" is the fate of many black figures in French art and Some Black Parisians is an attempt to redress this by placing Laure's name, among others, "up in lights." Rendered in white neon script, these names were created after the models' own handwriting, after that of the artists who employed them, or by asking friends and colleagues of Glenn Ligon to write in their own handwriting. These were then blown-up in scale and mounted on aluminum supports. The neon signatures will be placed on the two towers at the end of the museum's central nave.
In addition to the twelve names visible from many vantage points within the museum, the words "nom inconnu" will appear in neon typeface at the top of one of the towers, an acknowledgment of the names of models we still do not know.
Glenn Ligon (b. 1960) lives and works in New York. His solo exhibitions include Camden Arts Centre, London (2014-15); Whitney Museum of American Art, New York (2011); The Power Plant, Toronto (2005); The Studio Museum in Harlem, New York (2001); Kunstverein, Munich (2001); Walker Art Center, Minneapolis (2000); and the Institute of Contemporary Art, Philadelphia (1998). His work was included in Documenta XI (2002); in two Whitney Biennials (1991, 1993); and in All the World's Futures at the 56th International Art Exhibition La Biennale di Venezia (2015). Recent curatorial projects include Blue Black at the Pulitzer Arts Foundation (2017) and Encounters and Collisions, done in collaboration with Nottingham Contemporary and Tate Liverpool (2015).
Current exhibitions
Folders around the exhibitions